Cosplay Planner + Progress: Celine Jules
It feels like I just got back from Zenkaikon, but I'm already working on a new costume for AnimeNEXT. Part of the reason for that is because I only have six weeks to make this costume. The other part? Well, I hate to admit it, but maybe I'm a sore loser. Not placing at Zenkaikon has really fired me up for AnimeNEXT. I want to level up my cosplay game.
The character I'm planning to cosplay at AnimeNEXT is my favorite mage from one of my favorite videogames. This is Celine Jules from Star Ocean: The Second Story.
There are a few different variations of her costume, but I've always preferred the original design from the PlayStation version of the game. I do plan to clean up the lines of her dress a bit, but otherwise I want to keep all of the fun details of the costume. Including that gravity-defying hat and cape. It's going to be a pretty ambitious project for me, so I hope I can pull it off.
Cosplay Planner
This is a new thing I'm trying out for cosplay planning. I keep a bullet journal to stay organized and I try to include cosplay as much as I can with my more routine tasks. However, I hope that keeping a few designated cosplay planning pages with references and lists will help me keep up with everything. I'll let you know how that goes.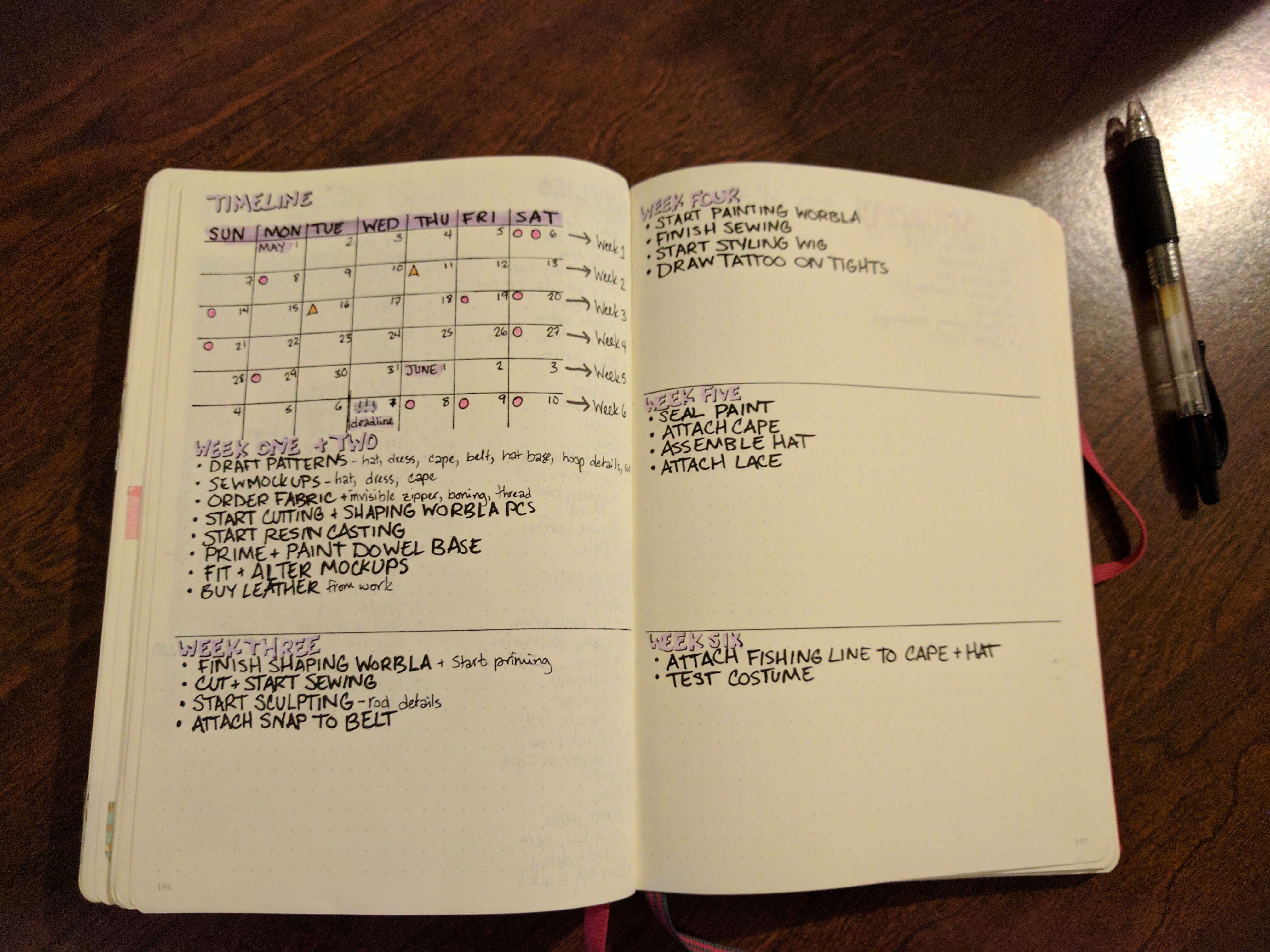 And here is the timeline I have to work on this costume. I'm not great at planning further in advance than a week or two, but at least I have a few goals to aim for each week to track my progress. I'll probably fill this in more as I go and have a better idea of what I need to accomplish each week. And now for some progress pictures!
Cosplay Progress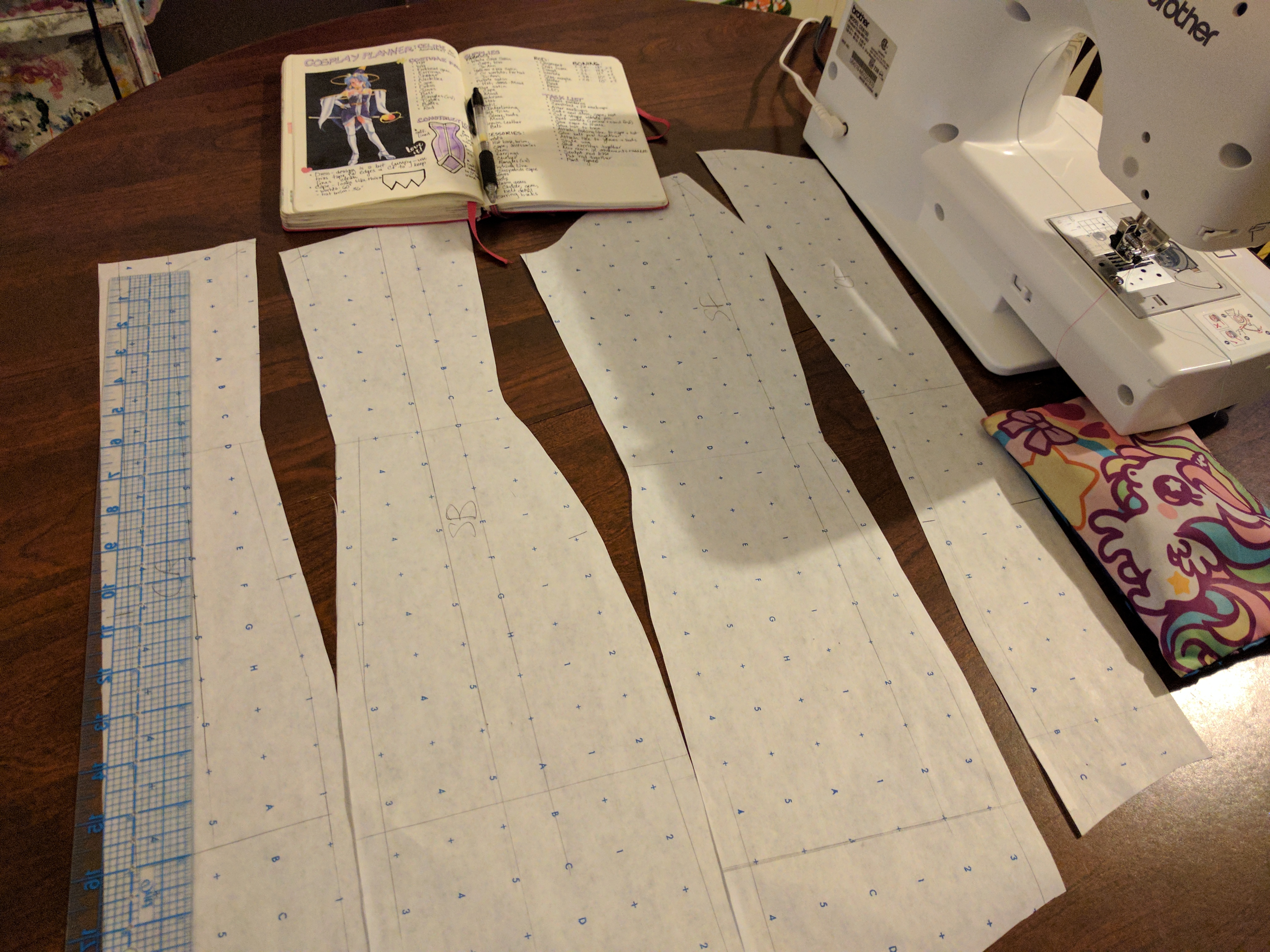 I always start a costume by making the patterns. I didn't document the drafting process, but I basically traced the top of one pattern and the bottom of another and then changed the hem.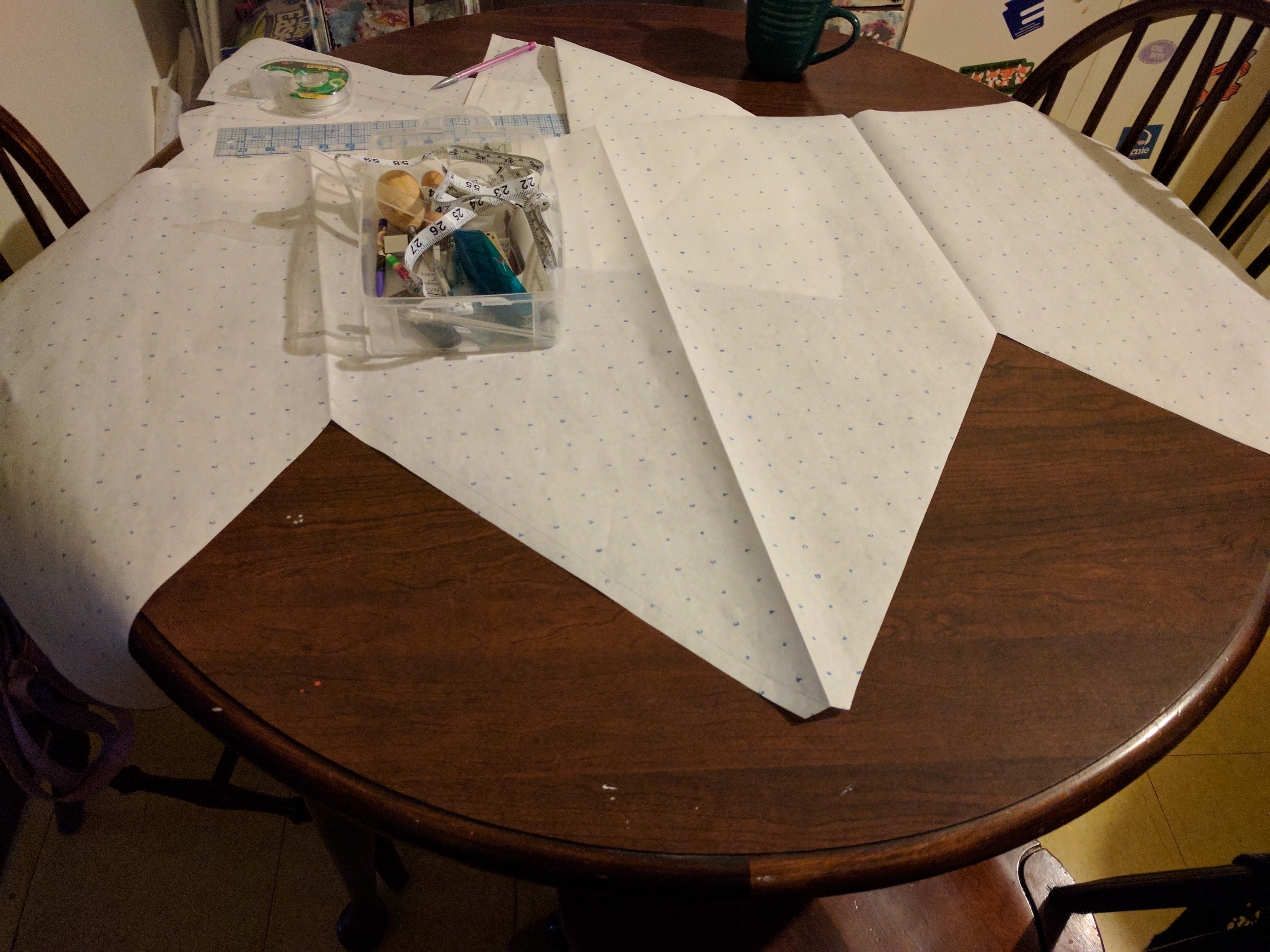 And the cape pattern! A tip for cutting a symmetrical or repetitive shape is to fold your paper/fabric enough times that you only have to cut one side. That's how I made this zigzaggy shape. But make sure to secure the material with tape, staples, or pins so that it doesn't move when you're cutting it.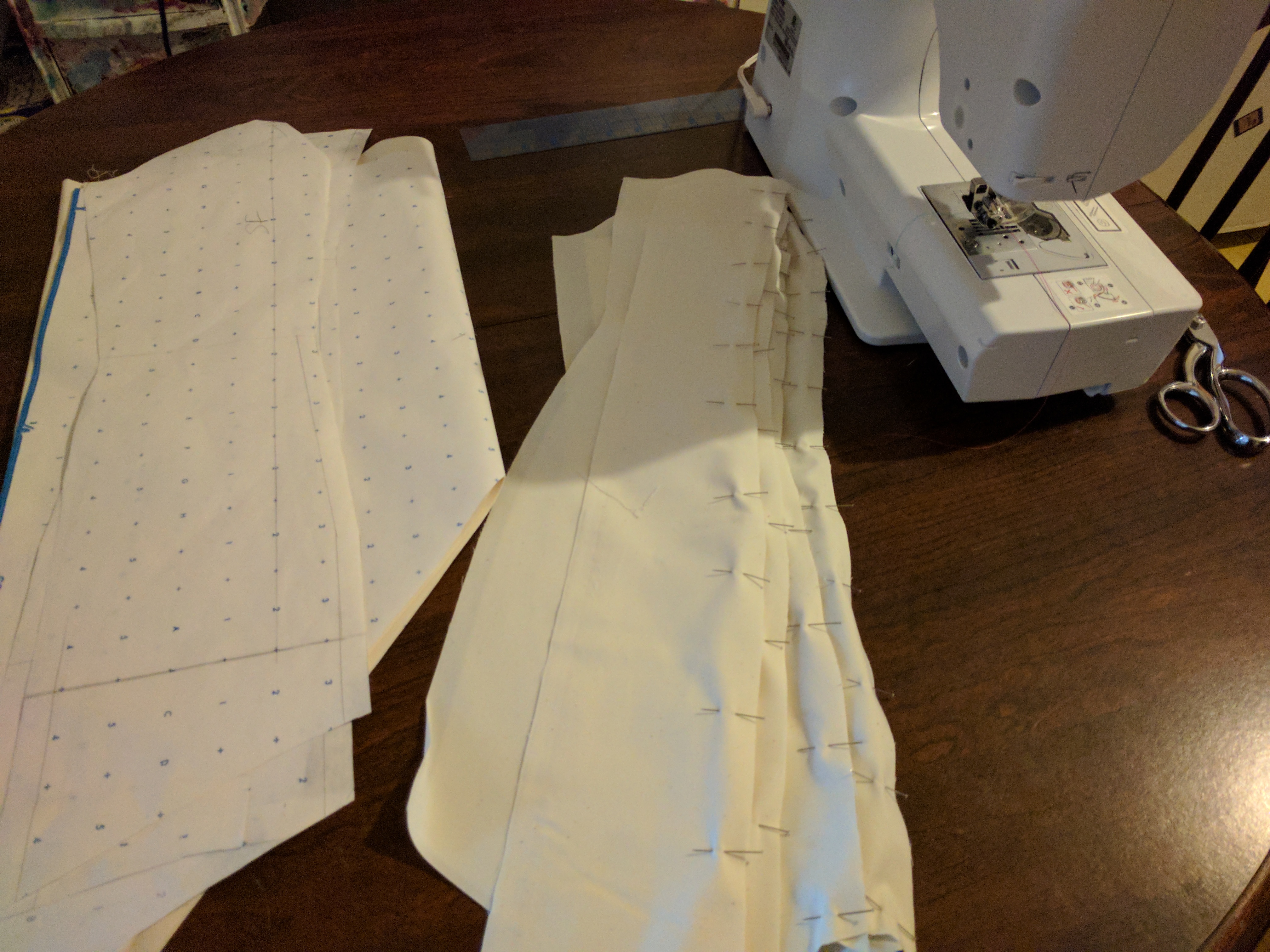 I always make a mockup of whatever I'm making before I cut into my final fabric, so I cut my patterns out in muslin and started sewing them. If I can, I like to pin multiple pieces before I even begin sewing so I don't have to stop to pin together the next piece.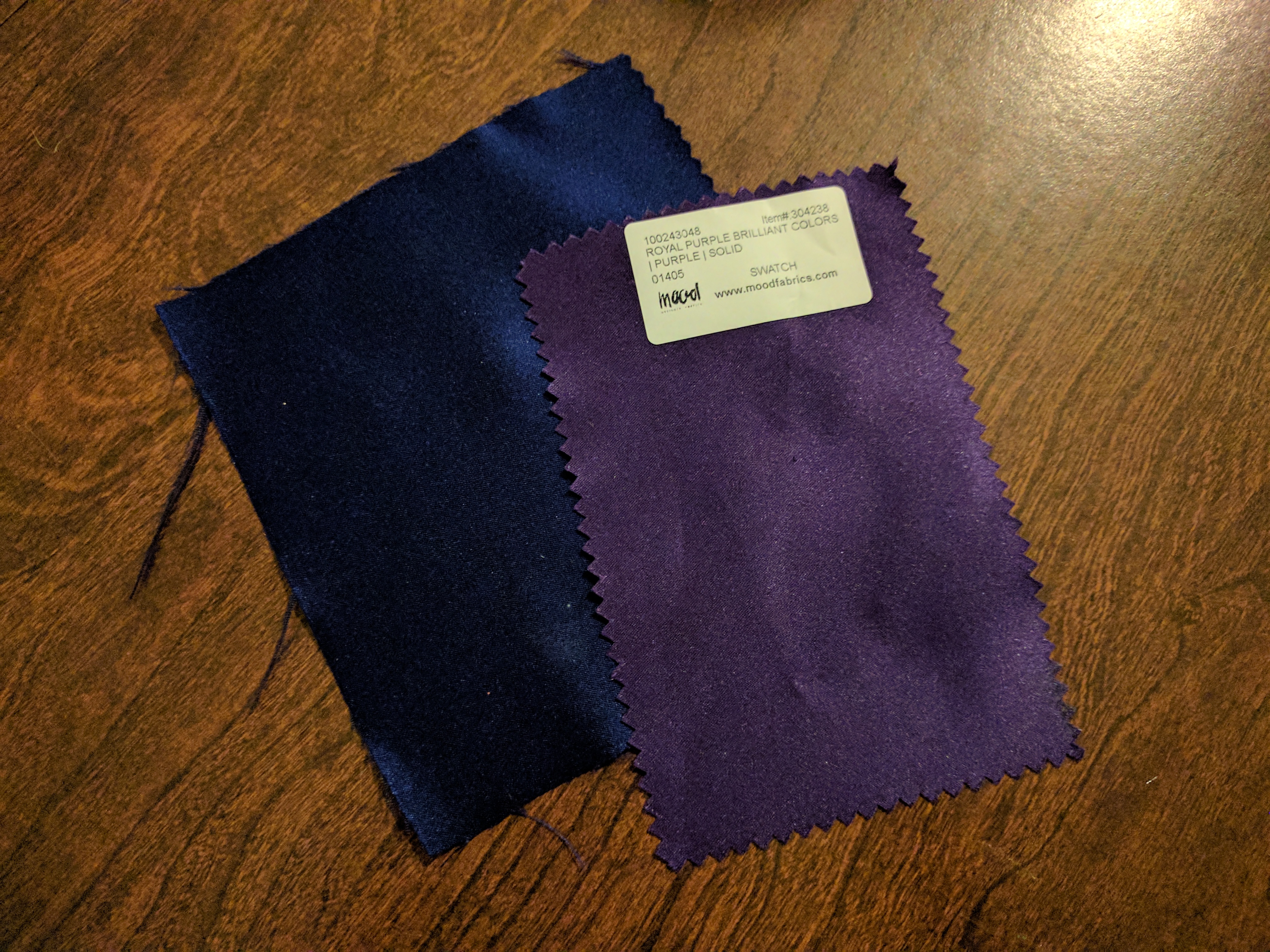 I ordered some swatches from Mood a while back, so last week I went through them again and picked out these two for Celine. I try not to order fabric when I can help it, but I always try to get swatches first so I have a better idea of how the fabric looks and feels in person.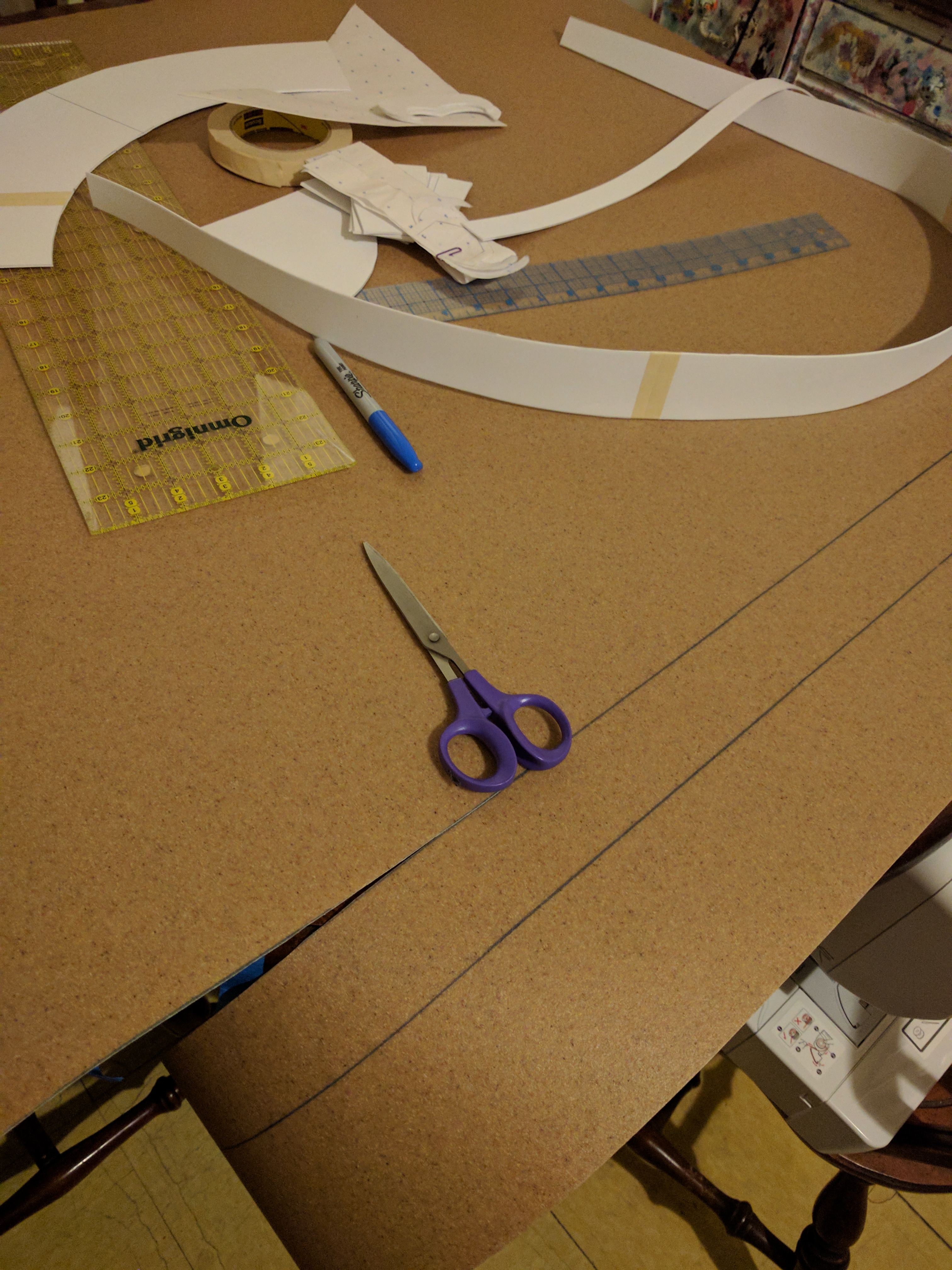 Since I don't have all the supplies I need to finish my mockup, I took a break from sewing and started working on other parts of the costume. For my worbla pieces I sometimes start with a paper pattern, but otherwise I'll go directly to craft foam. The foam serves two purposes: it's a mockup and a base for the worbla. I always cut the worbla a little bigger than the foam so I can either fold it around the foam or sandwich the foam and then trim the excess worbla around the foam.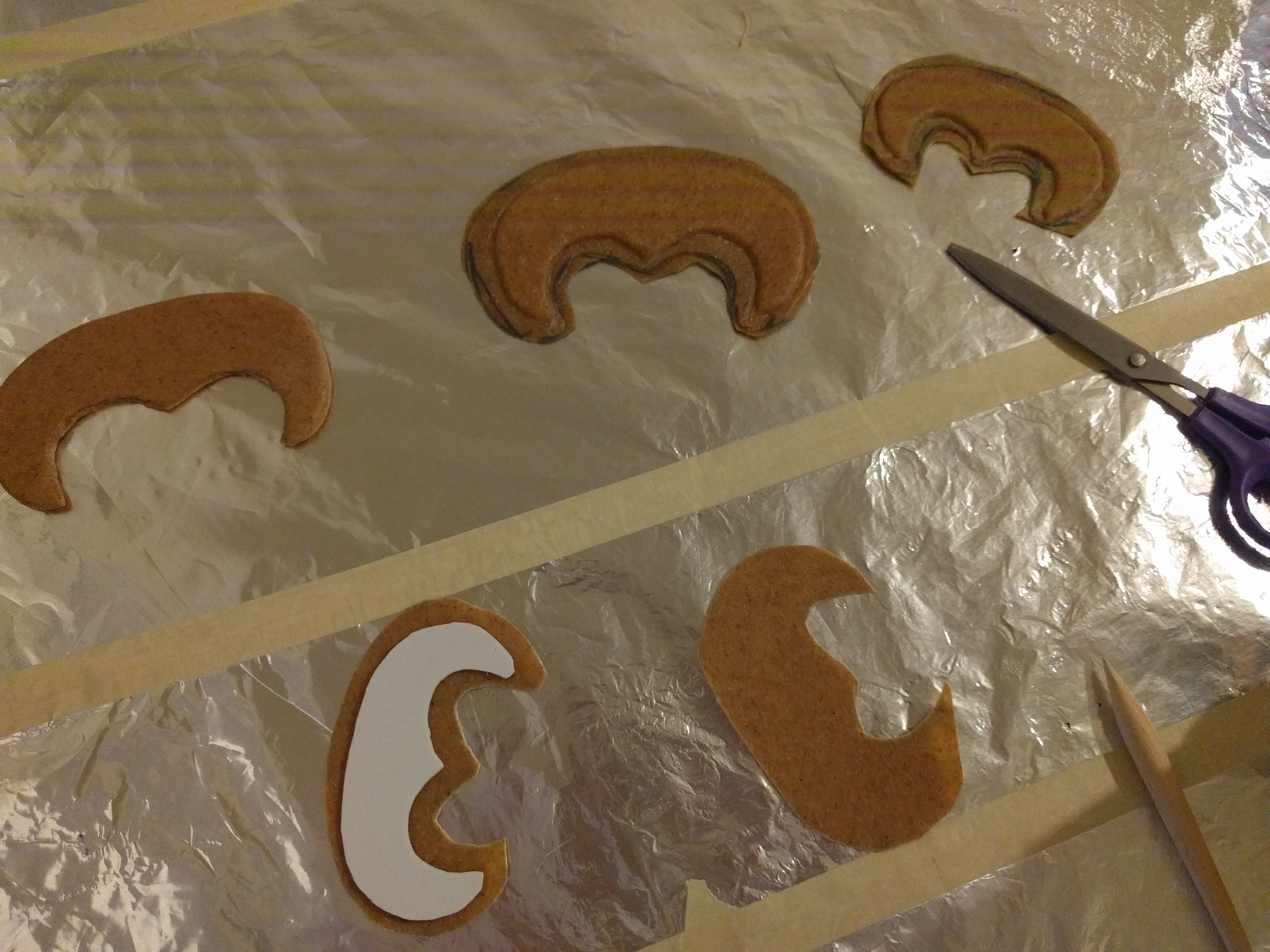 These will be the ornaments on each end of the cape frame and hat brim. The top left piece is finished; the rest are in various stages of the sandwich process. (I covered my table with foil to protect it from the heat gun!)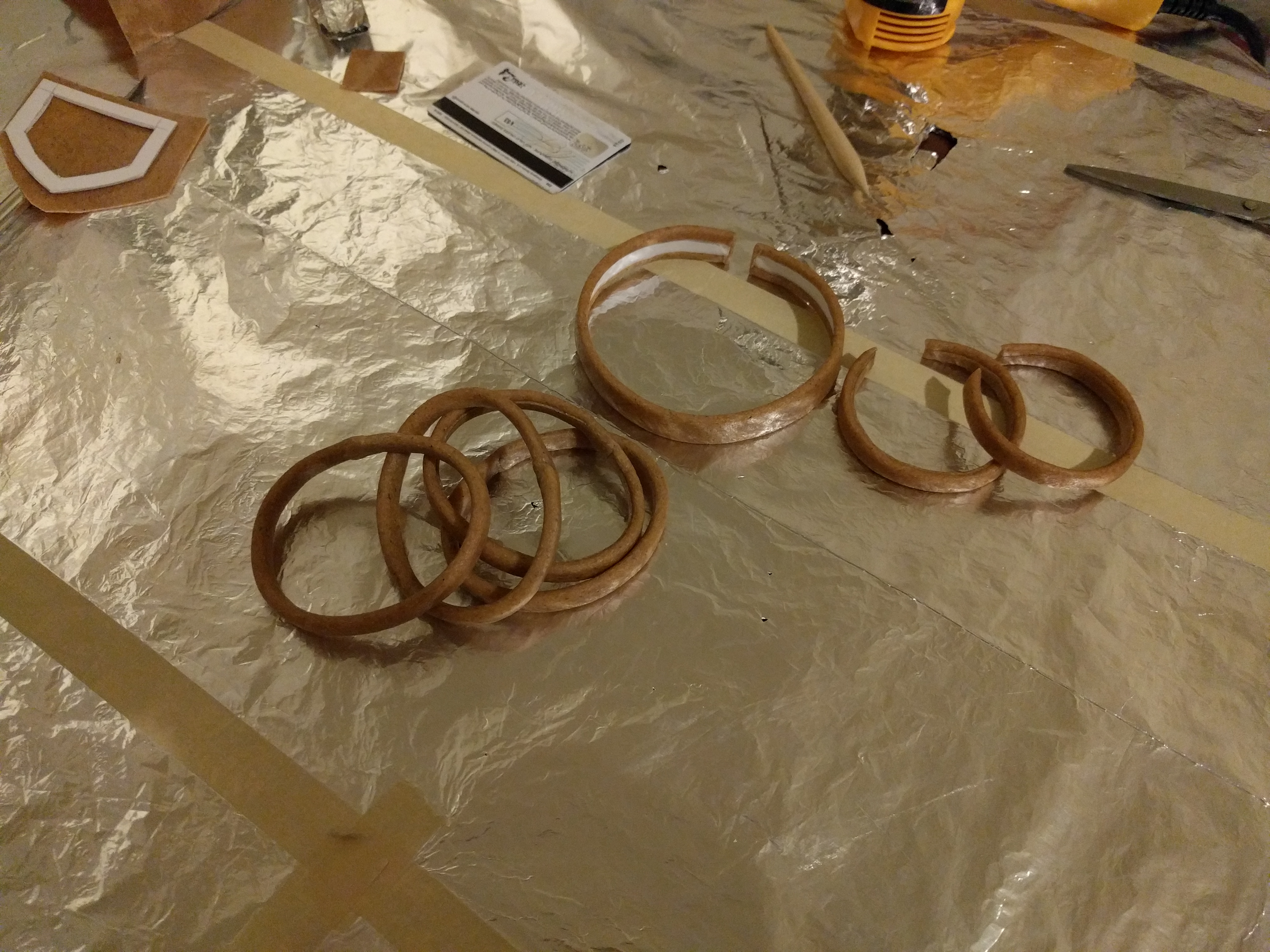 Various accessories. These will be bangles, a choker, and earrings.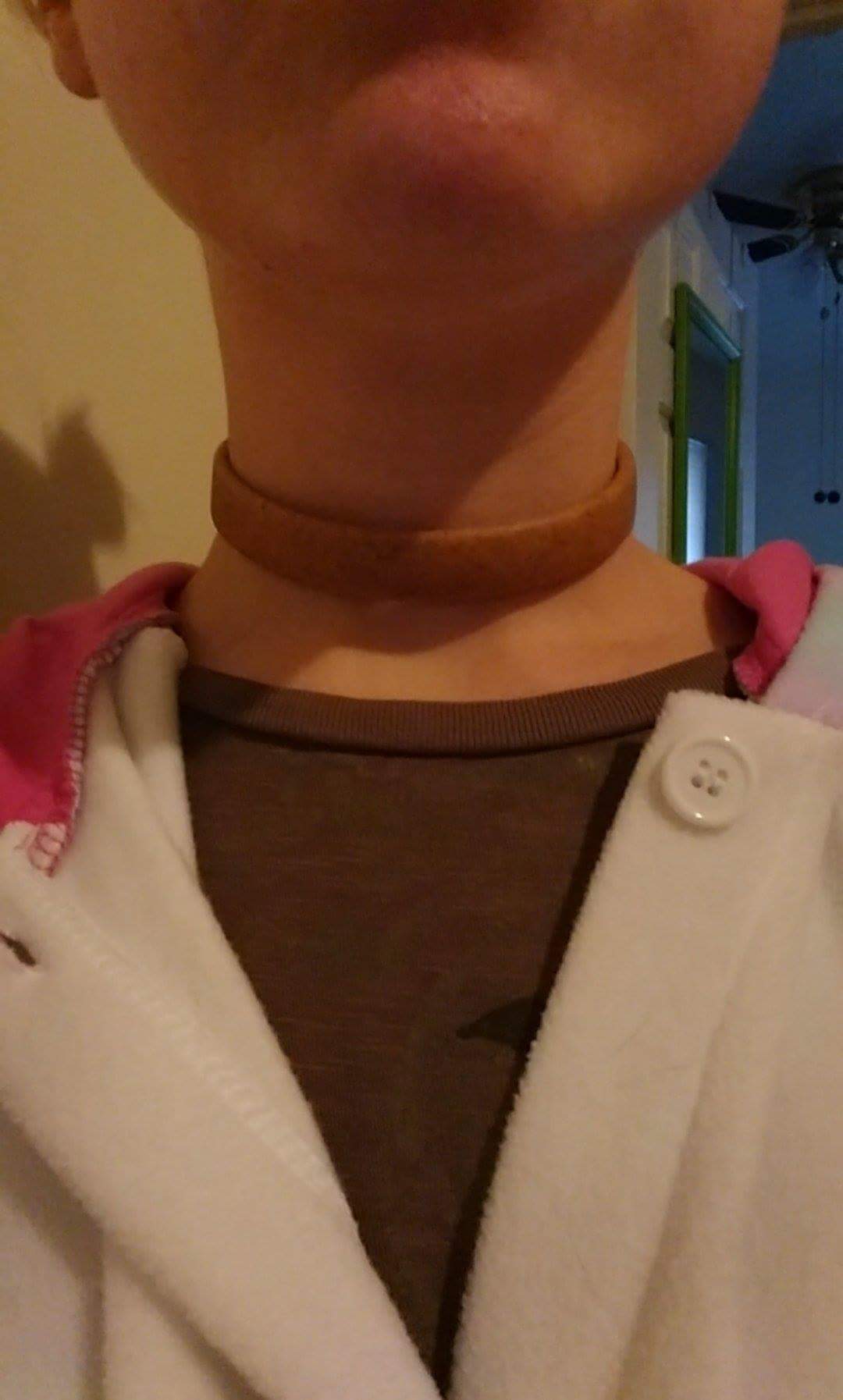 And a close-up photo of the choker so far!
This will be the handle of her rod. It's actually a wooden dowel with worbla wrapped around it and then I carved the details into the worbla. I still need to smooth them out a bit more.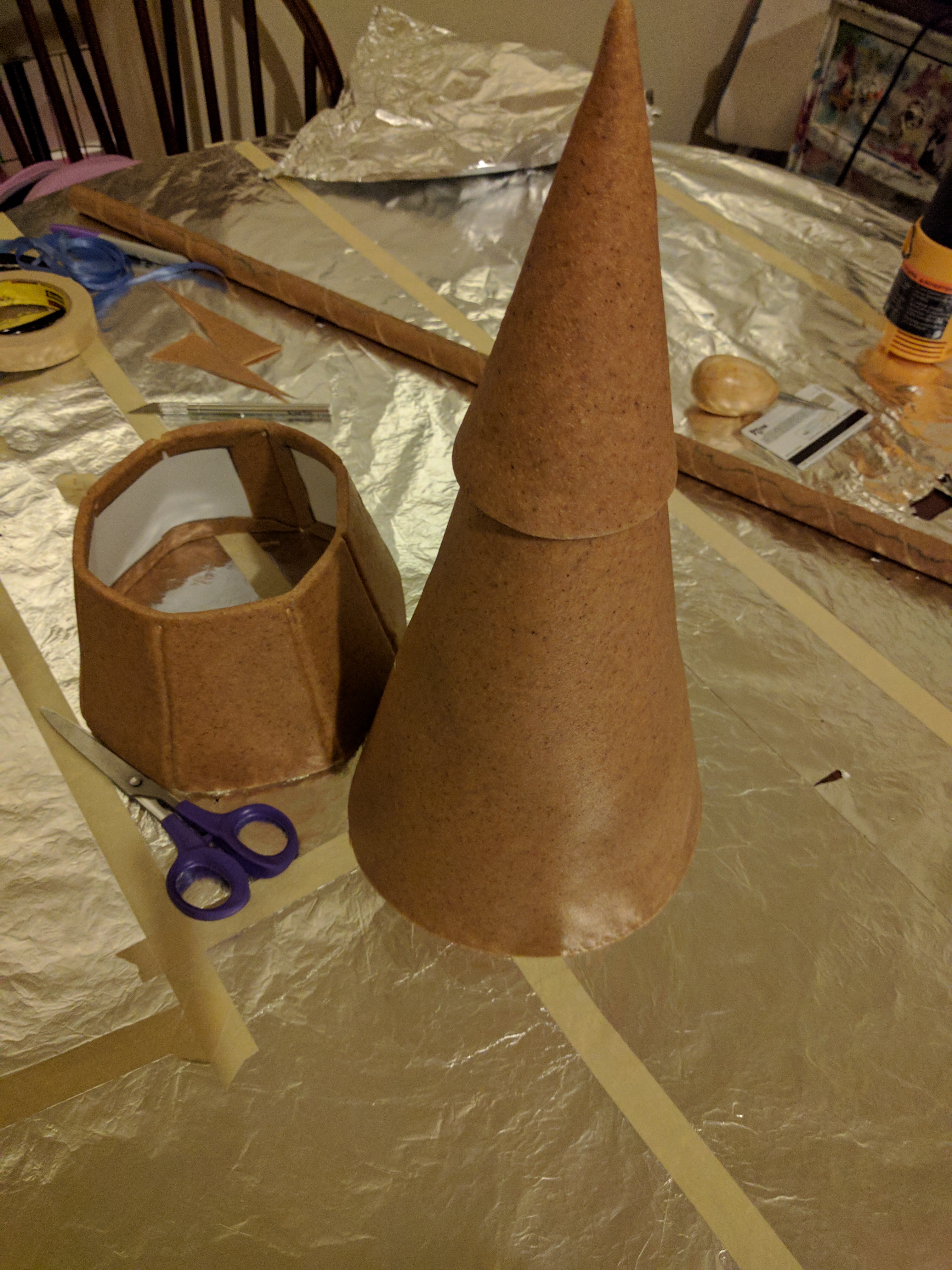 And the hat pieces! I'm still figuring out how everything will go together, but I think I can make it work.
That's all for now! Are any of you going to AnimeNEXT? Do you have an ambitious cosplay planned? Do you want to start a Star Ocean cosplay group with me??! Let me know! ✨