Cosplay Progress: Celine Jules, part 3!
I've been hard at work for the past few weeks because AnimeNEXT is coming up fast. Celine is almost done, but I still have a lot left to finish. Here's an update on my cosplay progress.
Sewing my life away, part 3
In my previous post, I was getting ready to set my invisible zipper. Unfortunately I didn't get any photos of the actual zipper-setting process, but I did want to say that it went surprisingly well!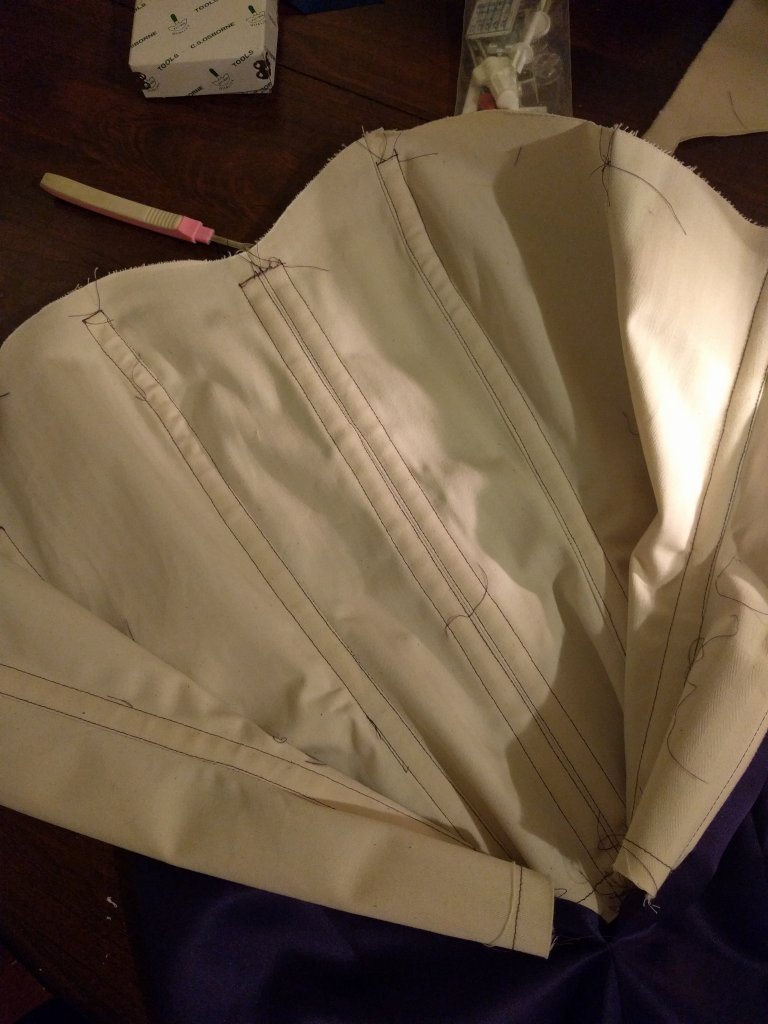 Here's a rare photo of the inside of my dress construction. I wanted to give the bodice part of the dress some structure, so I made an interlining to go between the lining and the face.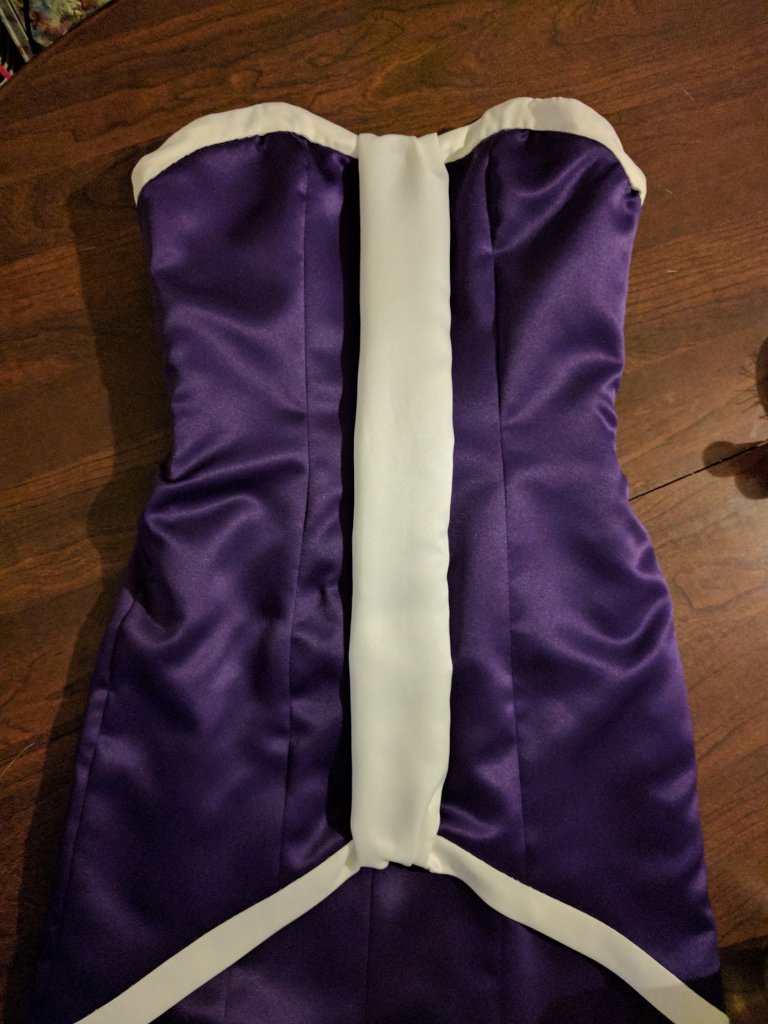 Here's the finished dress! I had some issues with the top bias but for the most part I think it looks okay. I opted not to tack down the center front trim because it doesn't look attached in the reference picture, plus when I put the belt on…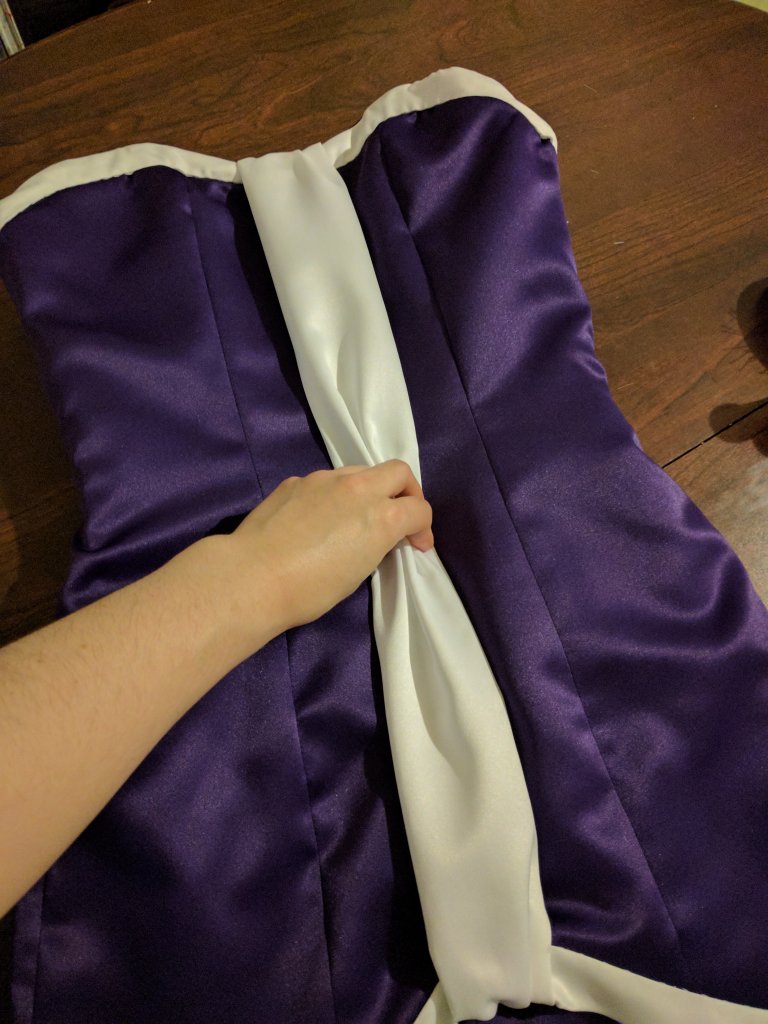 …I'm hoping it'll look something like this!
(P.S. Somebody please tell Danny to stop using my dress form as a coat rack so I can put my costumes on it again!)
Belts and hats and wallets, oh my!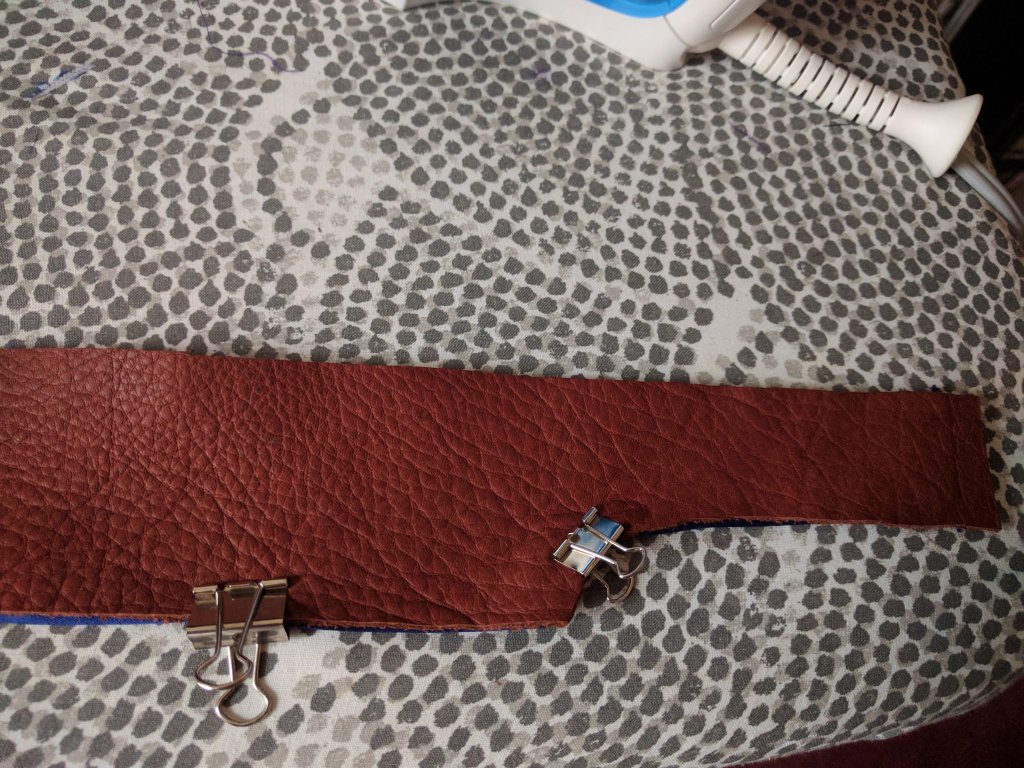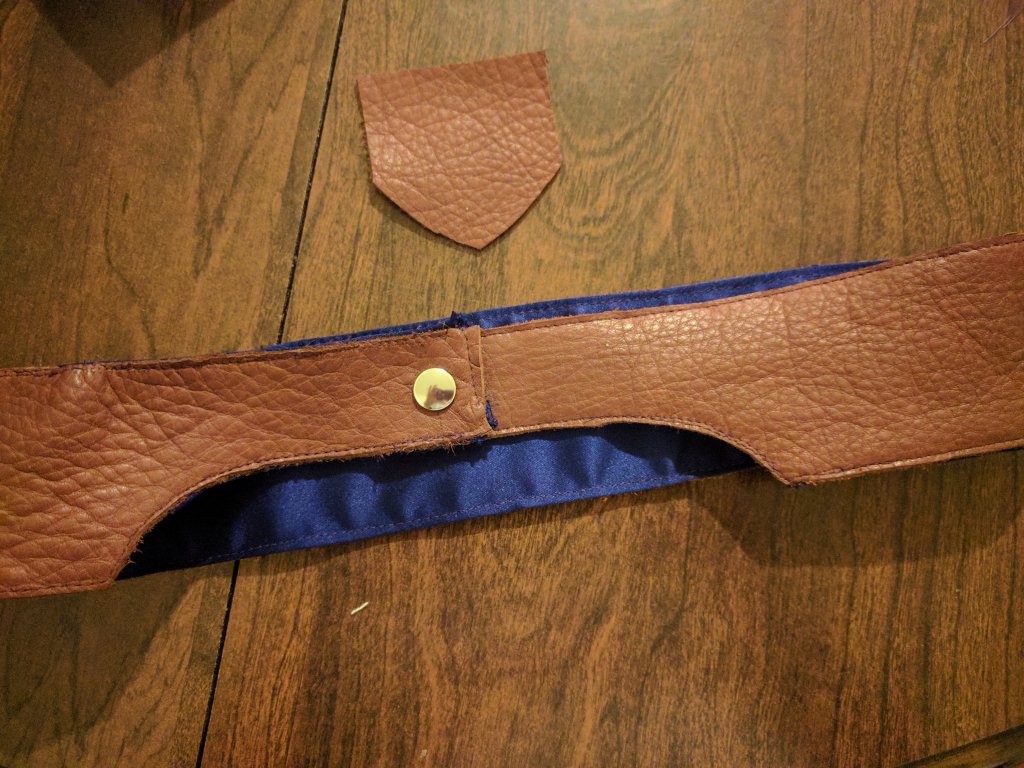 Speaking of my belt, here it is, and it is almost finished! I have never sewn leather before, and it was kind of really stressful! I messed up a few times, but I think it turned out okay. I'm still waiting to attach the little detail piece here because I'm still in the process of painting and sealing the gold worbla trim. I hope it looks good when I'm done!
Also, the blue lining here is the same lining that I used for the cape (not pictured, darn)! It's a fun detail that I wanted to add. Nobody else will ever know about it, but it makes me happy. If I think about it, I'll show the contest judges. 🙂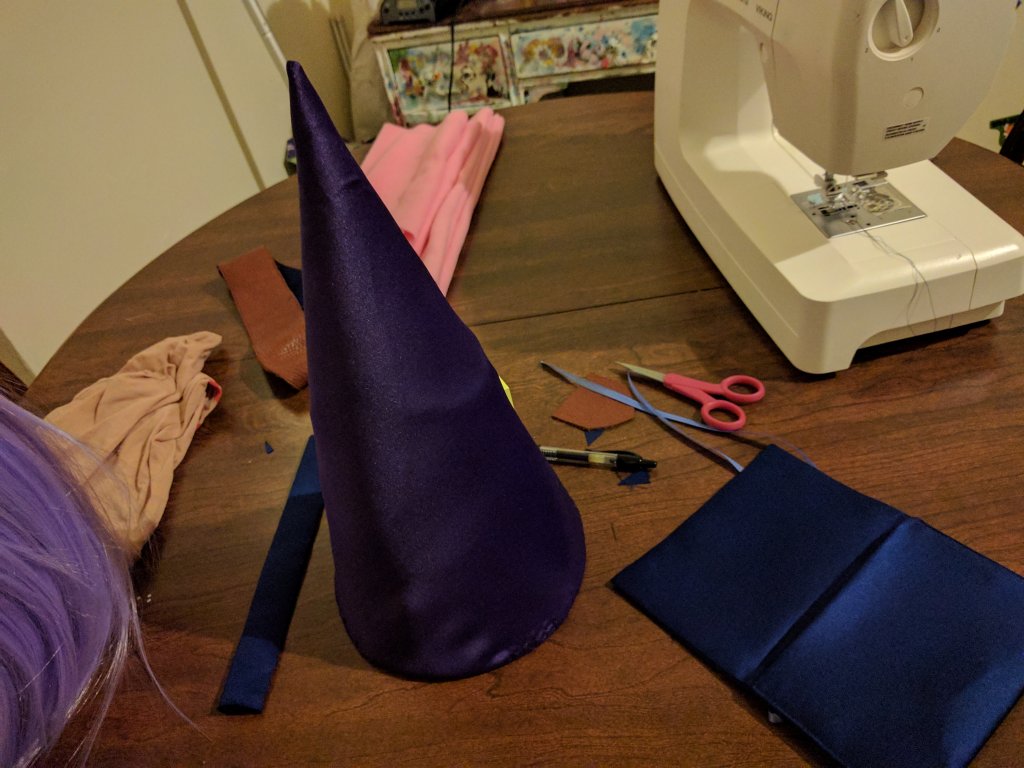 Celine's hat is a worbla base covered with purple satin. I bent it a little bit to give it a more organic shape, so that's why it looks a little weird here. I'm still working on the gold accessory pieces that I will attach to the hat later. Not pictured: I sewed some wig clips into the hat so that it'll stay on better and support all of the pieces I'm going to suspend from it when I put everything together.
I also made a little wallet that will loop onto my belt to hold my phone and other things!
(Mis)adventures in resin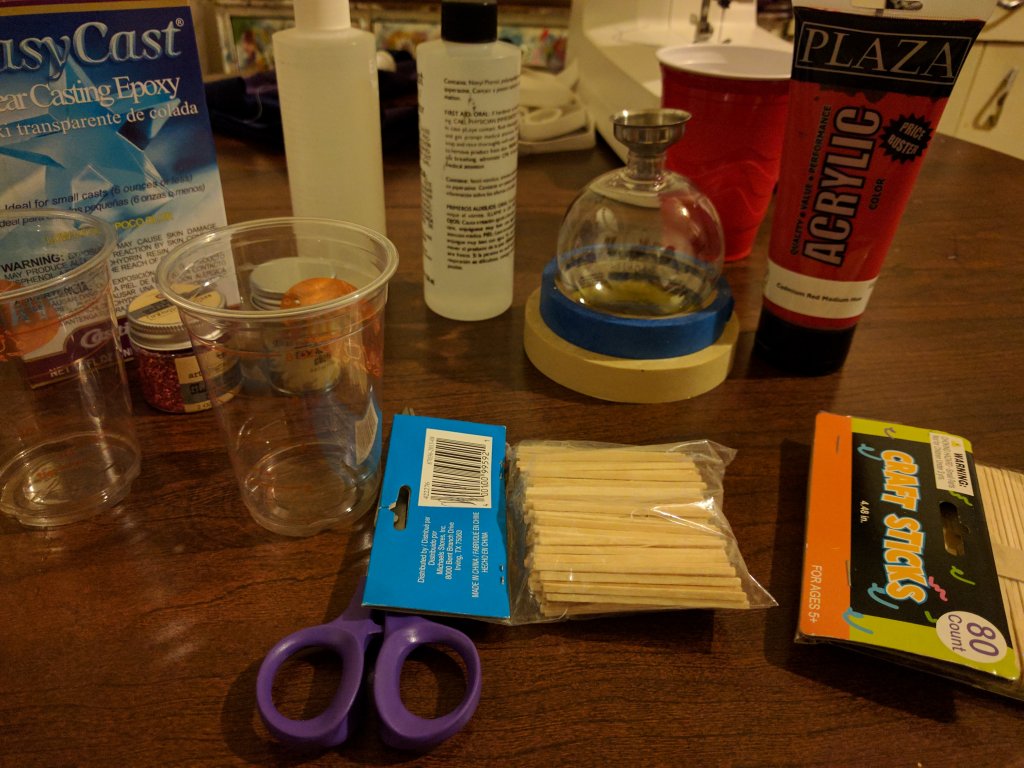 There's a glowing red orb at the end of Celine's wand. I wanted to make that by filling a Christmas ornament ball with glittery red resin, but then this happened: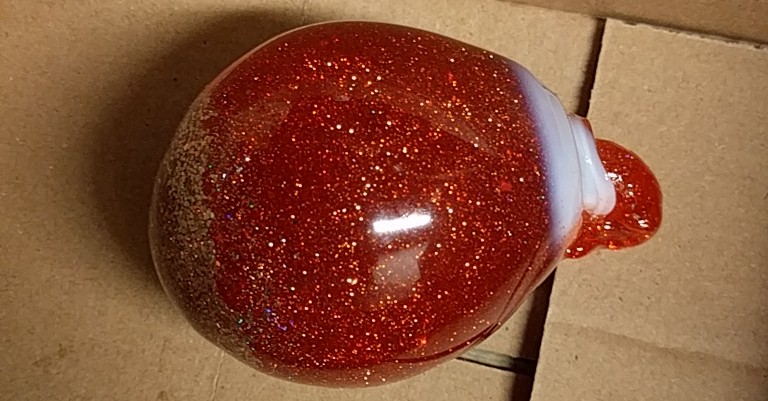 Which really sucks because resin is expensive and I wasted a lot of it trying to make this work.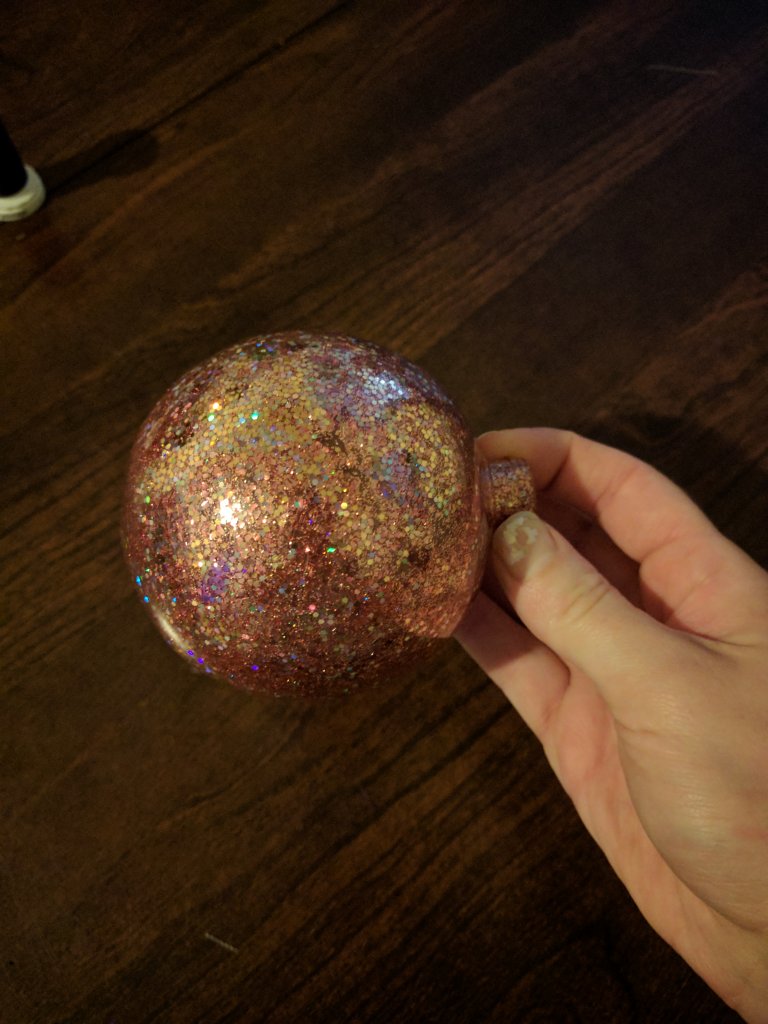 This is what I did instead. I sprayed the inside of the ball with spray adhesive, used a funnel to pour glitter inside, and shook it up to coat the entire inside of the ball with glitter. When I'm done painting the rod I'm planning to glue some LEDs into it.
So many accessories!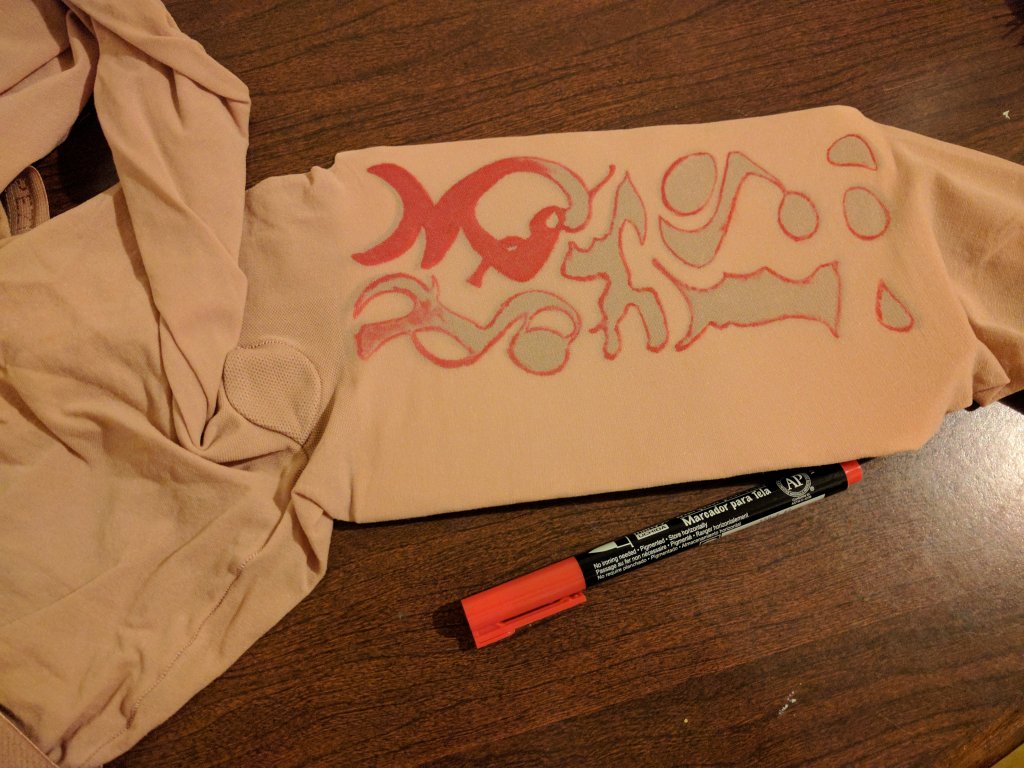 The nice thing about cosplaying characters with leg tattoos is that you can just draw or paint the tattoo onto a pair of tights. I made a template on card stock and then traced it onto my tights using a fabric pen that I bought on clearance at Michaels.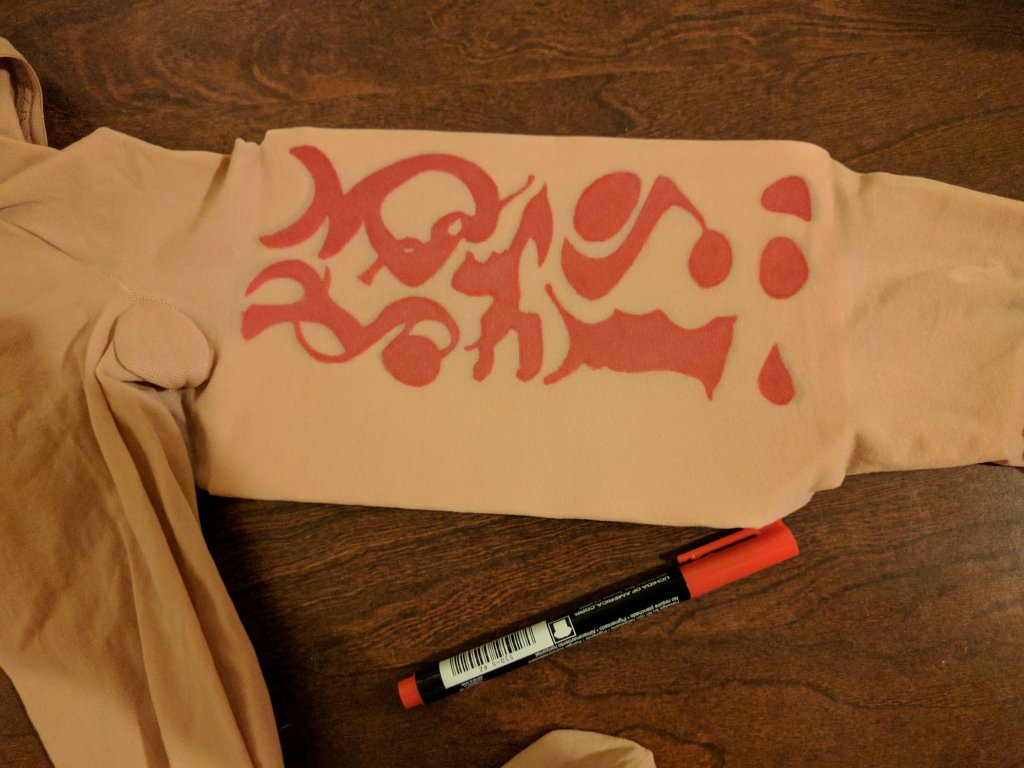 And the finished product! Celine also has a little heart tattooed onto her chest, and I think I'll just draw it on with this same marker when I'm getting ready.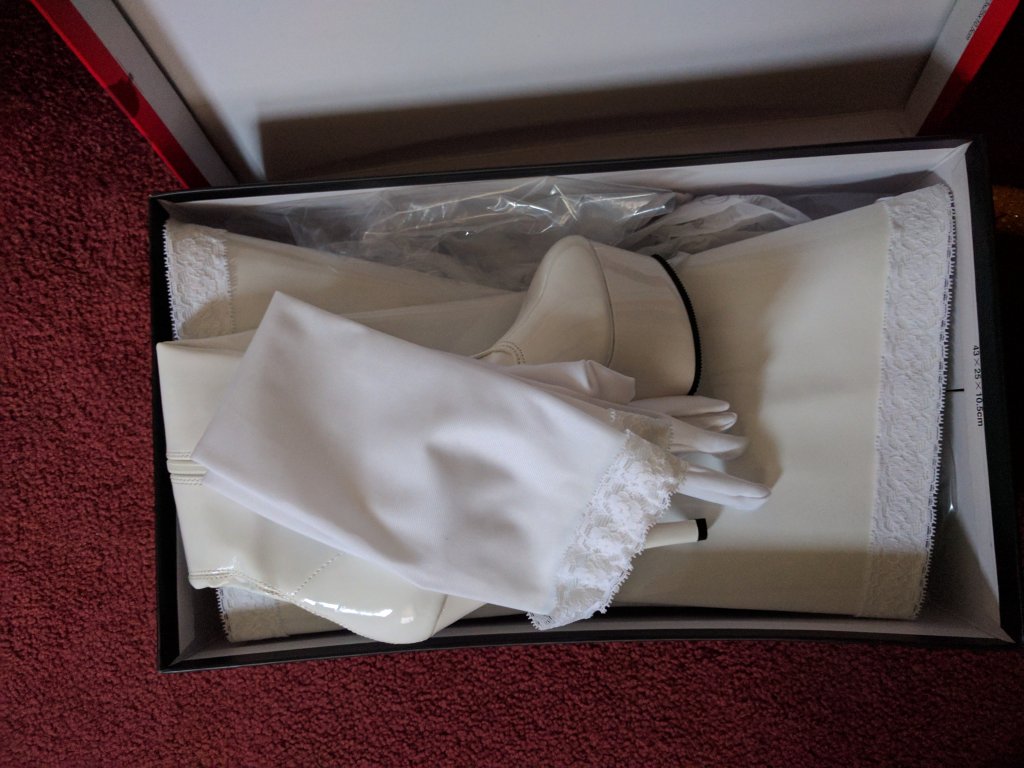 No actual progress pictures here, but I added stretch lace trim to both my gloves and boots. I glued the lace onto the boots using Tacky Glue, and I handstitched it onto the gloves.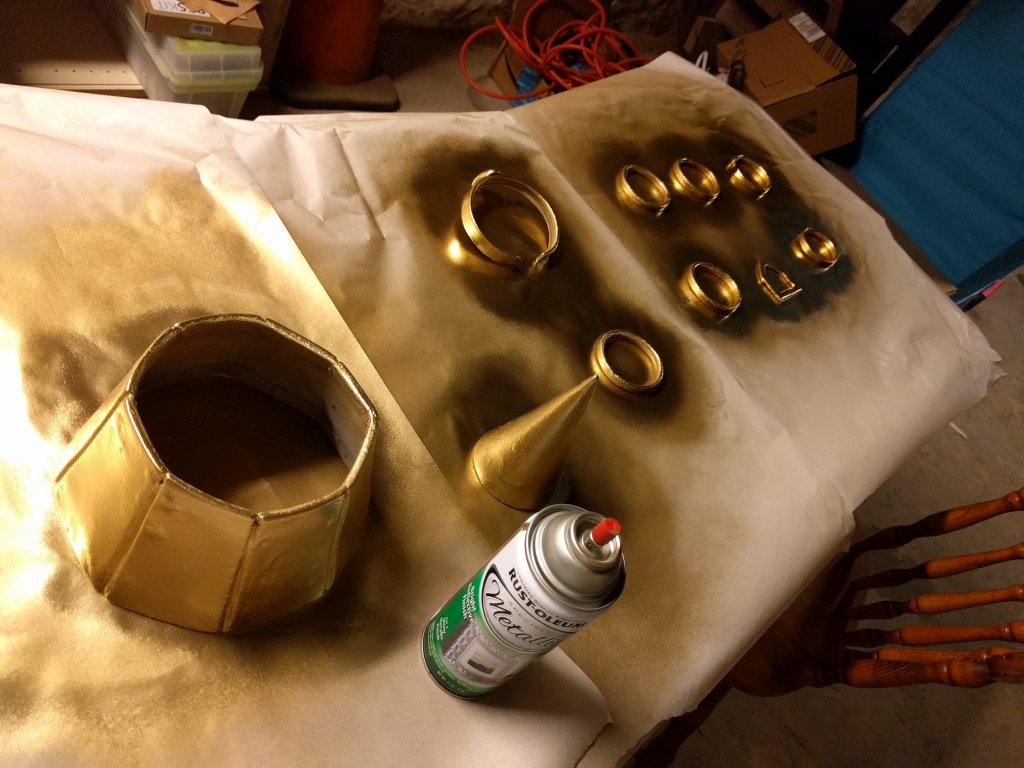 I'm currently in the process of painting some of my worbla accessories; hopefully I'll finish them in time!
Okay wig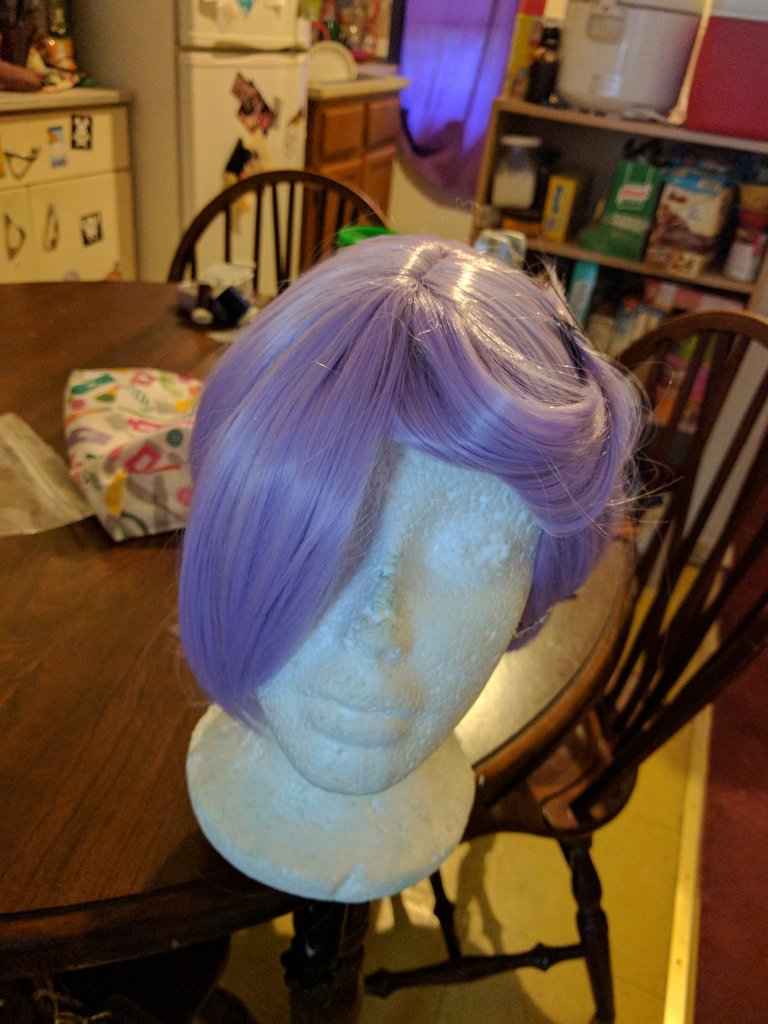 So you might have noticed that I do almost all of my work at my kitchen table. I don't have a dedicated cosplay space, so the kitchen is my workspace.
Celine's wig is a Theia wig in violet purple from EpicCosplay. I didn't need to do a lot of styling, but Celine does have some poofy 90's anime bangs so I wanted to add some volume to them. I started by clipping back everything except the bangs I was working with at the time.
I used my blow dryer and hair spray to lift the bangs and then held them in place as they cooled.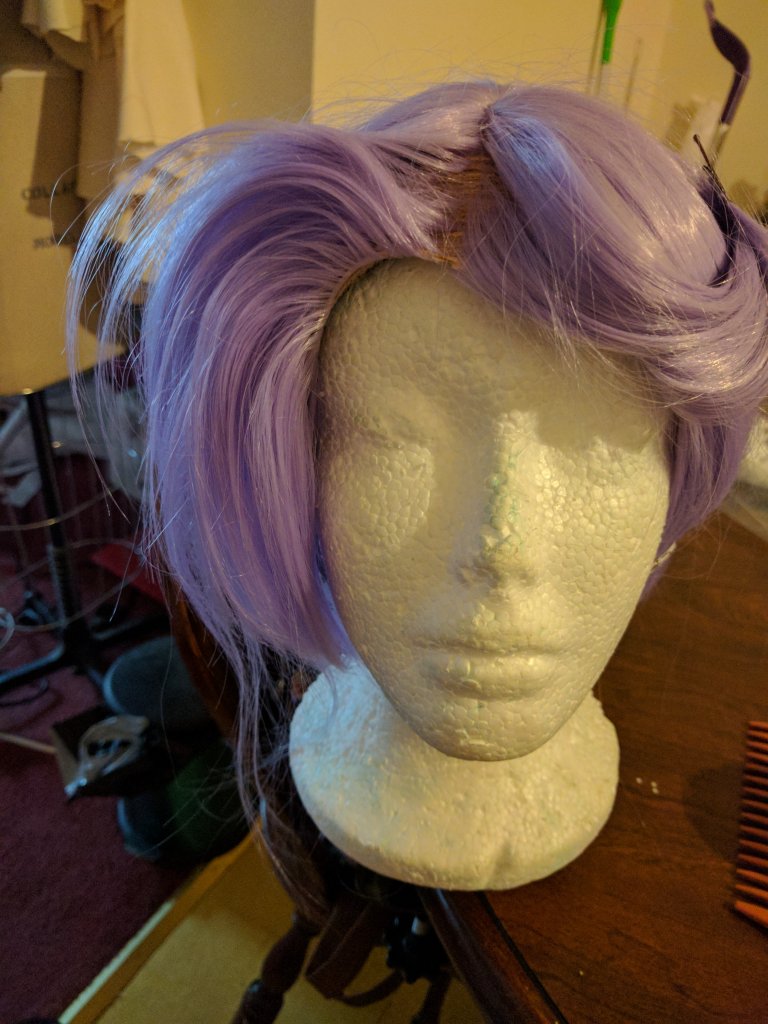 I had to do this a few times to manipulate the bangs and add more volume.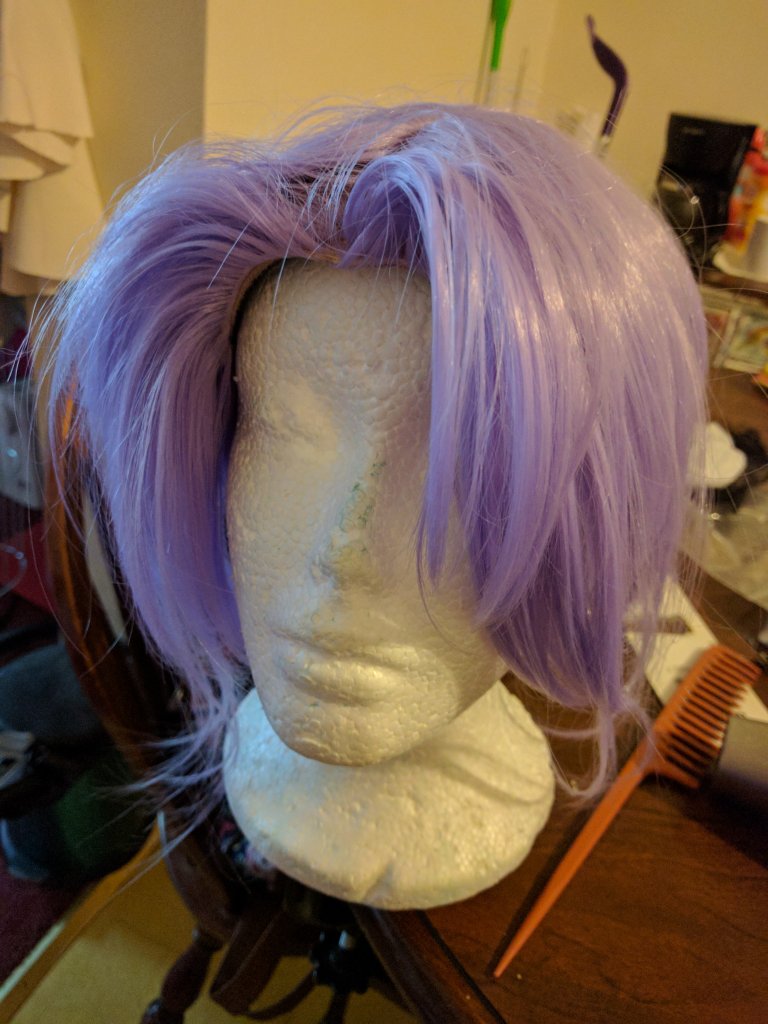 I repeated the process for the other side, and then I did some more styling.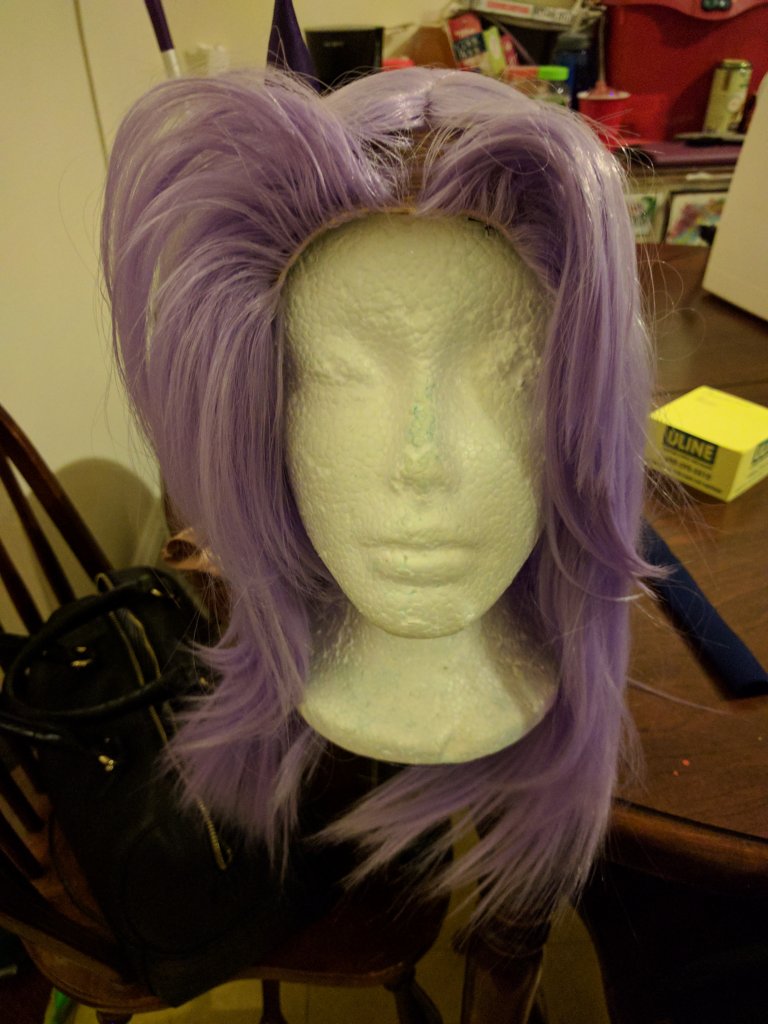 I think I'm done with the wig now? I'm not 100% positive, but I'm leaving her on my table in case I change my mind later.
I'm in cosplay hell, send help
And that's what I have so far! I feel like I'm almost done, but there's still a lot left to doin such a short period of time! I still have unpainted worbla in my basement and accessories that need to be finished and pieces that need to be put together. I'm not sure how I'll get it all done, but I'm learning a lot and having a lot of fun. Are you in cosplay hell too?