Outfits of the Week (May 21-27, 2017)
Although my primary focus here is cosplay, this will also occasionally become a personal fashion/"outfit of the day" blog. I just started a new job last week, and I'm pretty excited about it. However, this meant I had to update my wardrobe a bit so I had more appropriate work clothes. I feel very confident in my new work clothes, so I took some selfies throughout the week to show them off. So here they are: my outfits of the week!
Tuesday (5/23)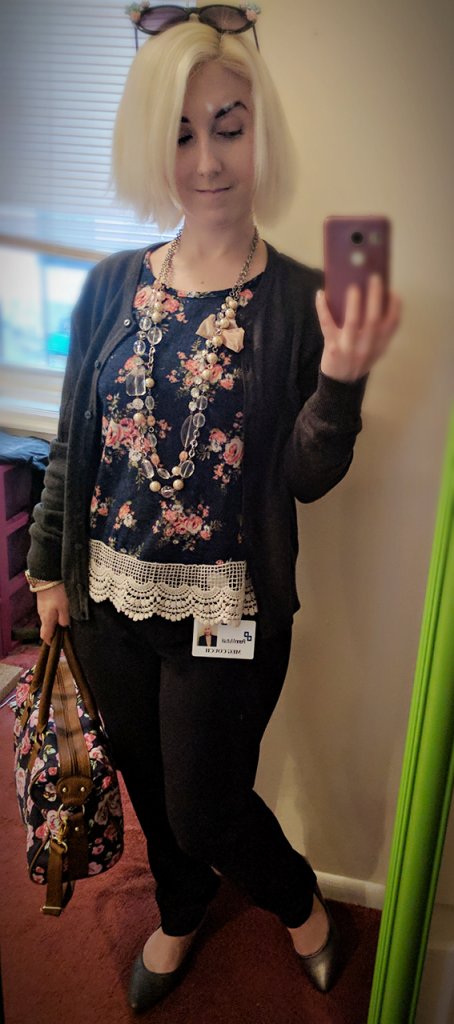 Sunglasses: Amazon
Necklace: New York & Company
Top: thrifted!
Cardigan: H&M
Pants: H&M
Bag: Payless
Shoes: Payless
I spaced and didn't photograph my outfit on Monday, so here is Tuesday's outfit! There was a flea market in the park down the street from my apartment, and I found this cute rose-printed top there!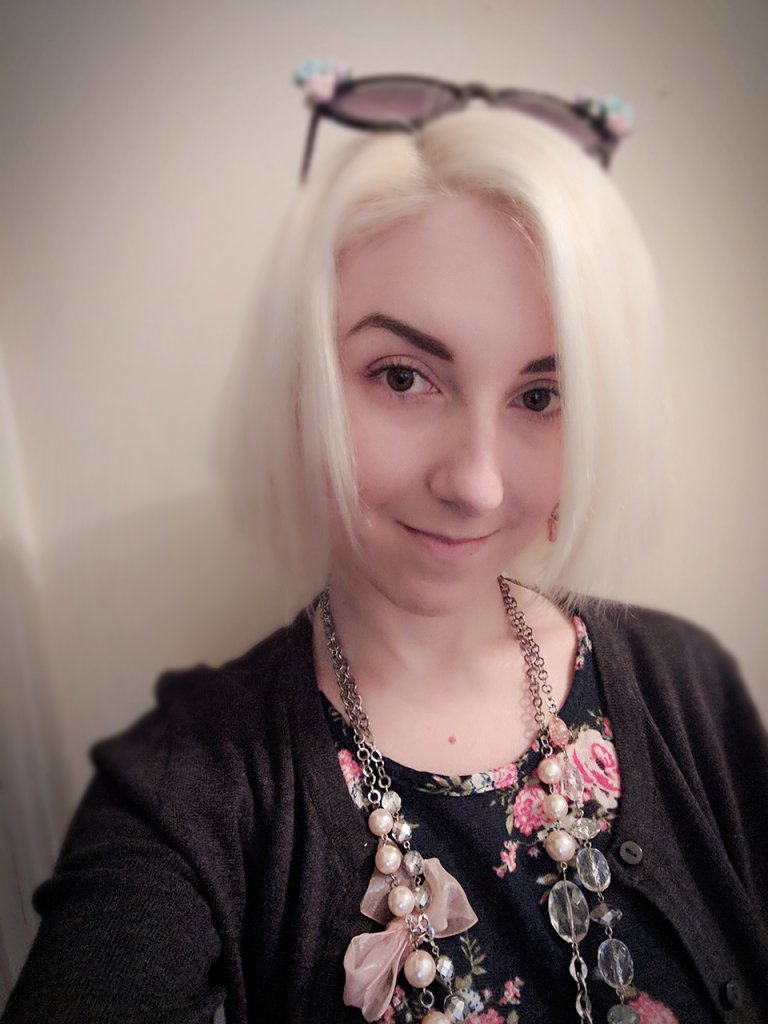 Wednesday (5/24)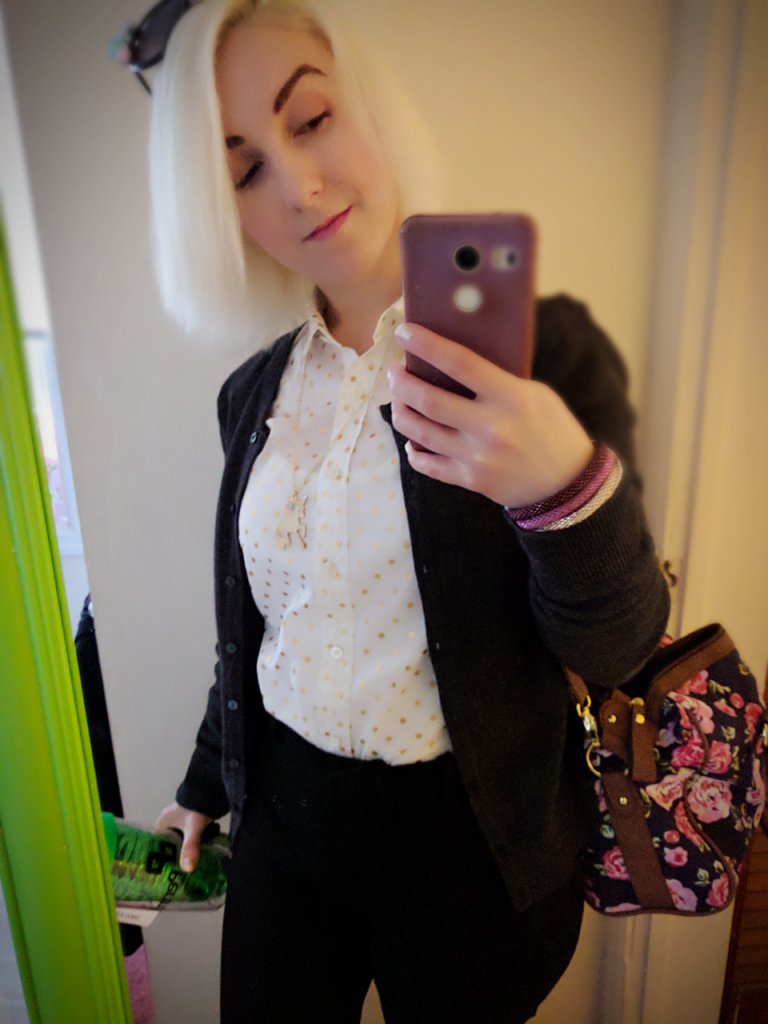 Sunglasses: Amazon
Necklace: Claire's
Bracelets: gifted
Shirt: Greene Street
Cardigan: H&M
Pants: H&M
Bag: Payless
Greene Street is a chain of consignment stores in Pennsylvania and New Jersey. Danny and I went shopping there a few weekends ago, and this gold polka-dotted shirt was among my finds. I wore a matching pair of gold shoes that I thrifted from Buffalo Exchange a while back. The bracelets were a Christmas present from my mom a few years ago. I'll be excited to wear this outfit again because it feels very professional but still fun.
Thursday (5/25)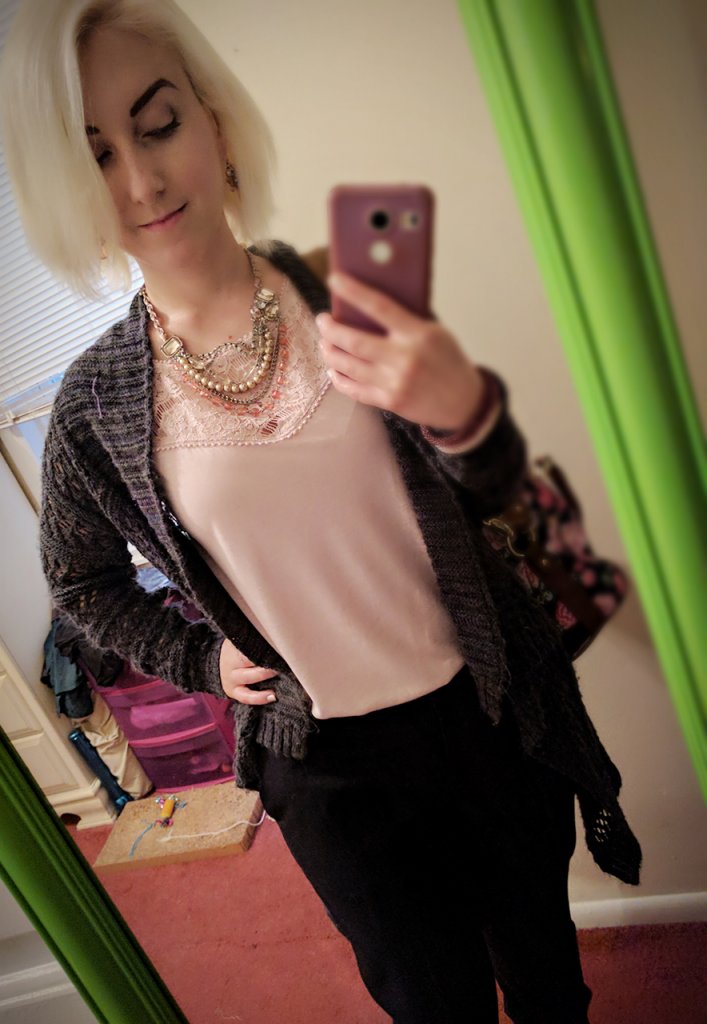 Necklace: New York & Company
Earrings: New York & Company
Bracelets: gifted
Top: H&M
Cardigan:Charlotte Russe
Pants: H&M
Bag: Payless
I really like this rose quartz color I'm seeing a lot of lately. It matches a lot of the jewelry I own, which is great because I don't often wear jewelry. The dress I wore on Monday was also this color.
Please excuse the clutter in this picture; I wasn't able to crop it out like I did in most of my photos. I have three cats that all love these little scratching boxes.
Friday (5/26)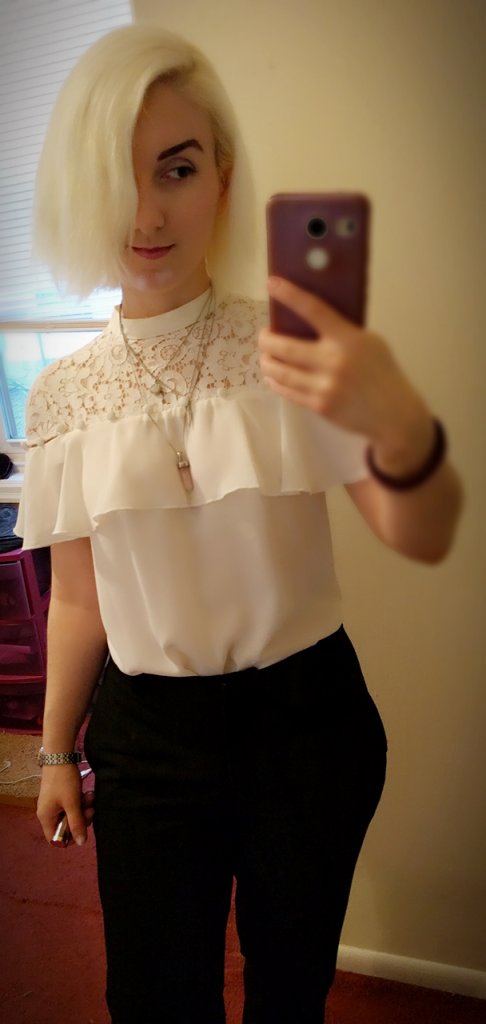 Necklace: Emily Taylor Rogers
Bracelets: gifted
Watch: gifted
Top: Express
Pants: H&M
Emily Taylor Rogers is a local artist and designer whom I had the pleasure of meeting at the Art Is Life festival in Roxborough this year. I bought two of her necklaces: one for Danny, and one for myself. The one I bought for myself is sort of a three-in-one necklace because it has three chains fastened by a single clasp.
I love this top from Express; the sleeve ruffle partially buttons off so you can wear it a couple of different ways, but I like it buttoned up like this. Friday was our company picnic, and as part of the theme employees were asked to wear a specific color depending on our location in the building. I wore this top because white was the color for my department.
Going forward
I have a few more new clothes to show off in future "outfits of the week" posts as I continue my journey into the office life. So far I'm enjoying it and I'm excited to continue my training tomorrow!
On the cosplay side of things, I'm hoping to post at least one more progress update for Celine and a convention packing guide within the next couple of weeks as I wrap up my preparations for AnimeNEXT, so stay tuned!