Packing for Conventions 101
AnimeNEXT is coming up fast, so I wanted to talk about packing for conventions today. Packing is one of those underrated tasks that might seem like a no-brainer, but it's actually an integral part of convention prep. It's a task that I think deserves more consideration than we're often willing to give it. Packing thoughtfully will save you time and space, which can significantly improve your convention experience.
My packing philosophy is that it's important to pack everything you will need for the convention, but since you will likely share a hotel room (and vehicle) with others it's also a good idea to pack light. You don't want to forget anything, but you also want to make sure that everyone's stuff will fit in the same space. Over the years I've developed a packing strategy that works for me, and I'd like to share it with you now. I admit it's a bit intense and it might not be helpful to you at all, but maybe it'll give you some ideas on how you can streamline your packing process. 😊
Consider your needs.
Before I start packing, I try to think very carefully about what I will actually need for the weekend. Take some time to think realistically about how you will be spending your time at the convention and plan accordingly. The idea is to pack as light as possible while still making sure you'll have everything you need. It'll be easier to fit more into your suitcase and find what you need during the convention if you don't have to dig through piles of extra stuff for it.
Clothing
Clothes are important, but if you're like me you'll be spending most of your weekend in costume. Don't stress too much about normal clothes. However, there are some situations in which you will want to have normal clothes. For example, if you plan to go out to eat during the convention, you might plan to bring an extra outfit so you won't have to eat in cosplay. If you go to the rave, you might bring an outfit for that. You will want to make sure that whatever clothes you do bring are comfortable, especially if your costumes aren't.
Whenever I'm getting ready for a convention, I think about what I need to wear each day and occasion throughout the weekend. Whenever possible, I try to condense whatever I'm packing. If I'm wearing normal clothes on Thursday, I'll wear the same shorts and shoes whenever I need to wear normal clothes throughout the weekend so I only have to pack a couple of extra tops. I sometimes even wear my pajamas out during conventions to save space in my suitcase.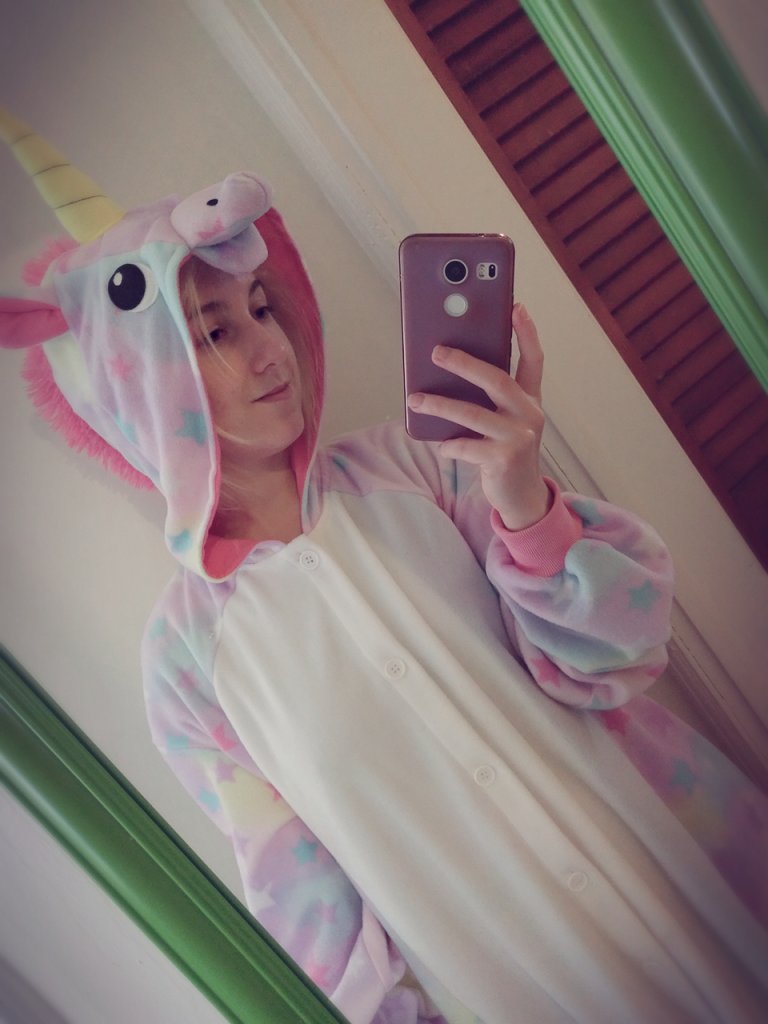 If your costumes are uncomfortable​, consider bringing a casual cosplay/kigurumi/something comfortable to change into when you're ready to change out of cosplay but still want to hang out at the con. At Katsucon this year I wore a casual cosplay under my kigurumi for the drive to the convention. I wore the same cosplay on Sunday and slept in the kigurumi every night, so by wearing those things on Thursday I brought an extra outfit and pajamas that I didn't even have to pack.
Food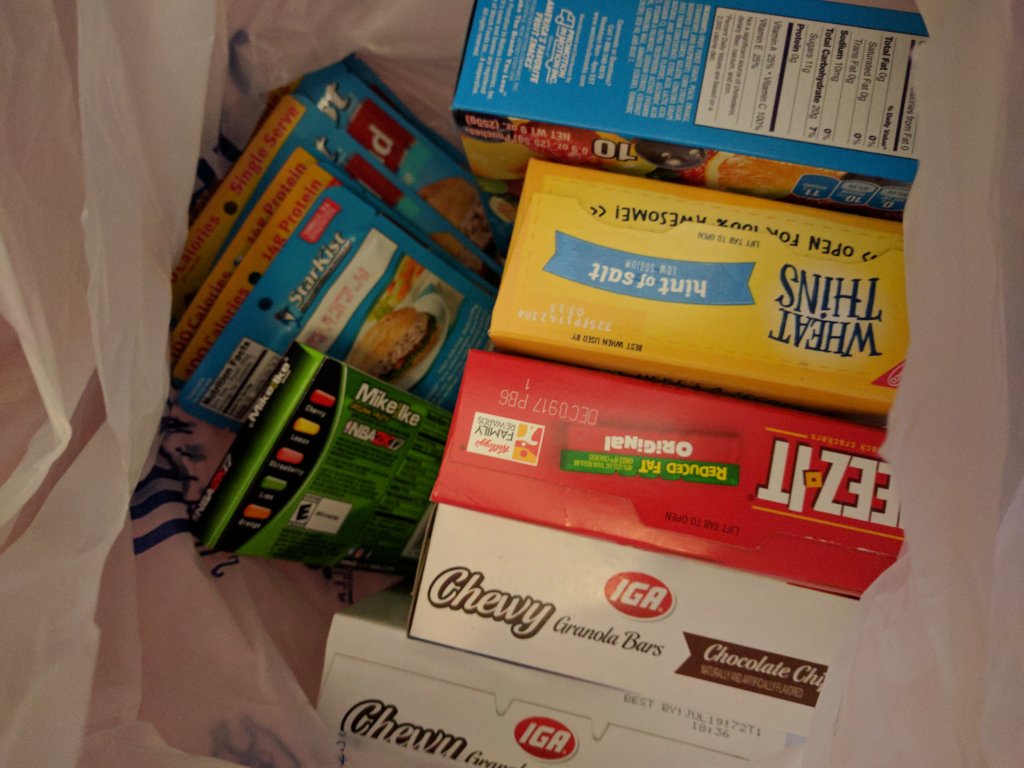 Even if you can afford to eat out all weekend during the convention, it's​ still a good idea to bring some snacks. If you keep a busy schedule like me, you won't always have time to run out to get food. Think about how many meals you typically eat in a day, how many times you plan to eat out during the weekend, and bring enough food and snacks to last you for the meals you won't be eating out. My friends and I usually carpool to the convention together, so we always have a nice dinner together on Thursday, maybe share one or two other meals during the weekend, and then pick up some kind of fast food on the way home on Sunday.
So with that in mind, I always bring enough for breakfast and at least one other substantial meal per day, along with plenty of snacks. I typically eat a granola bar and my daily gummy multivitamins for breakfast, and my go-to convention meal is prepackaged tuna salad on crackers. PB&J sandwiches and coffee maker ramen are also popular options.
In this case, I would recommend packing a little more than you think you'll need to make sure you have enough food. Bottled water is also important. If you don't mind tap water you can bring just one or two bottles and refill them as you go, or you can get a big pack and share with your roommates. Some conventions also have water coolers set up in various locations, which is another option if you don't want to carry your own water around the convention. Just be warned that they will run out during peak hours throughout the weekend, so you might want to bring your own water either way.
Toiletries and makeup
When it comes to bathroom stuff, I'm a big fan of travel sized products. I usually pick mine up at Target, but I've also found them at my local grocery store. Not every brand makes them, so sometimes I'll either try a different one or fill an empty travel container with my preferred product.
Sephora and Ulta also sell sample sized makeup and other beauty products, but for the most part I just use regular sized cosmetics.
Again, think about what you'll need and plan accordingly. If you're planning to spend most of the weekend in a wig, maybe skip the hair products and bring only the bare minimum. Sometimes I don't even bring shampoo because I only wash my hair once a week. At the same time, make sure you bring a brush or comb if you plan to wear a longer wig. If you're planning to wear makeup and/or other products applied directly to your skin, make sure to bring appropriate removal products as well.
Emergency and "just in case" items
I like to bring a bag of random "just in case" items that I might need throughout the weekend. I used to pack only emergency cosplay supplies, but over time I've added more general care items. Usually it contains ibuprofen, stomach relief tablets, allergy pills, bandaids, safety pins, and fashion tape.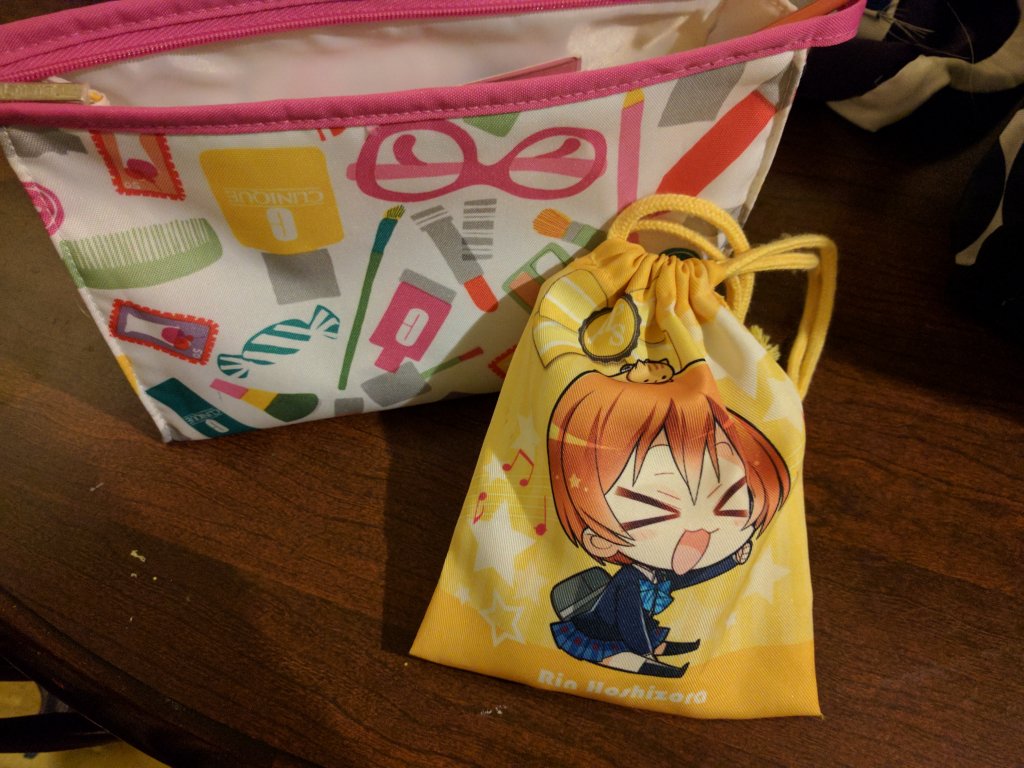 Make a packing list.
I find that if I make a very thorough packing list and check everything off as I pack, it's nearly impossible to forget anything. Making a list also prevents me from packing unnecessary items because I can see that I have everything I need.
So, now that you know what you need to bring, write it all down. Be specific, and make sure you list every item you need for each costume you're packing down to accessories and makeup. You might want to separate your list into different categories because there will be a lot of items to list.
This is what my packing list for AnimeNEXT looks like: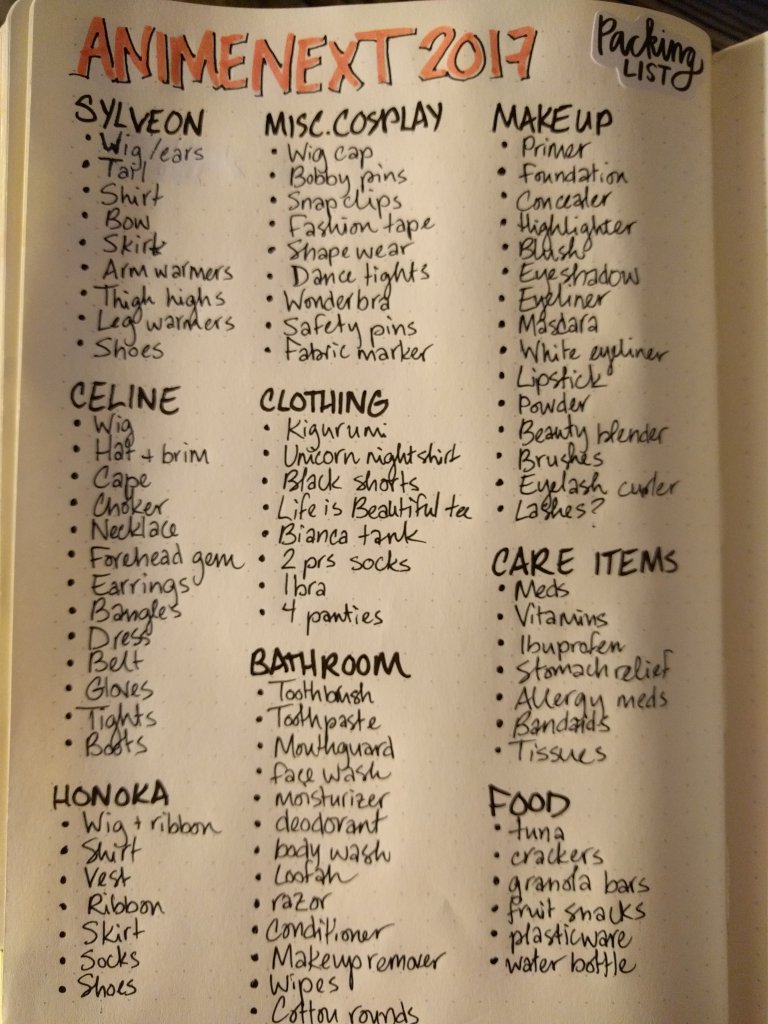 I usually make my packing list a day or two before I actually start packing. If I forget to write something down, I usually think of it and write it down before I start packing. As with most things that I write down, I keep my packing list in my bullet journal.
Your packing list doesn't have to be this specific. I just have an easier time remembering everything this way. When making my list, I find it helps to think of costumes from head to toe. I also like to walk myself through my morning and evening routines to remember my toiletries and makeup.
Start packing!
I usually start packing at the beginning of the week of the convention. Typically I pack regular clothes first so that I'm not tempted to wear them during the week. I also start gathering accessories, toiletries, makeup, and care items together at this point. If I'm using these items before I leave, they're organized so I can pack them afterwards. Delicate items such as styled wigs, accessories, and costumes should be packed last. Sometimes I pack these items separately, like this:
I usually pack costume garments separately as well. I like hanging garment bags because they double as a good storage option when you bring them home.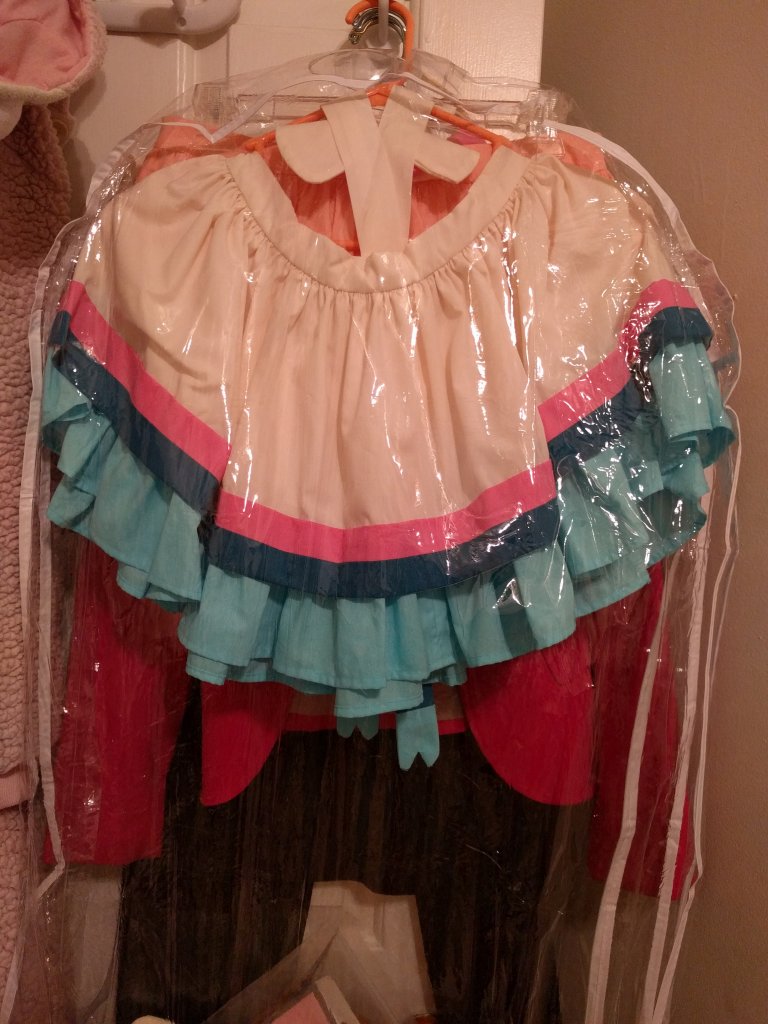 When packing toiletries, makeup, and similar items, it's a good idea to pack them in their own bags. This is both for ease of travel and for that "just in case" factor. If a bottle opens during travel, you don't want product getting all over your suitcase. It's also convenient to be able to carry your items throughout the hotel room. If somebody else is using the bathroom mirror, I'll bring my makeup bag to another mirror. Or I'll carry my toiletry bag into the bathroom, and then throw it back into my suitcase when I'm done. You might notice that I enjoy my system of bags within bags. It helps me stay organized, which makes it easier for me to find things when I'm getting ready.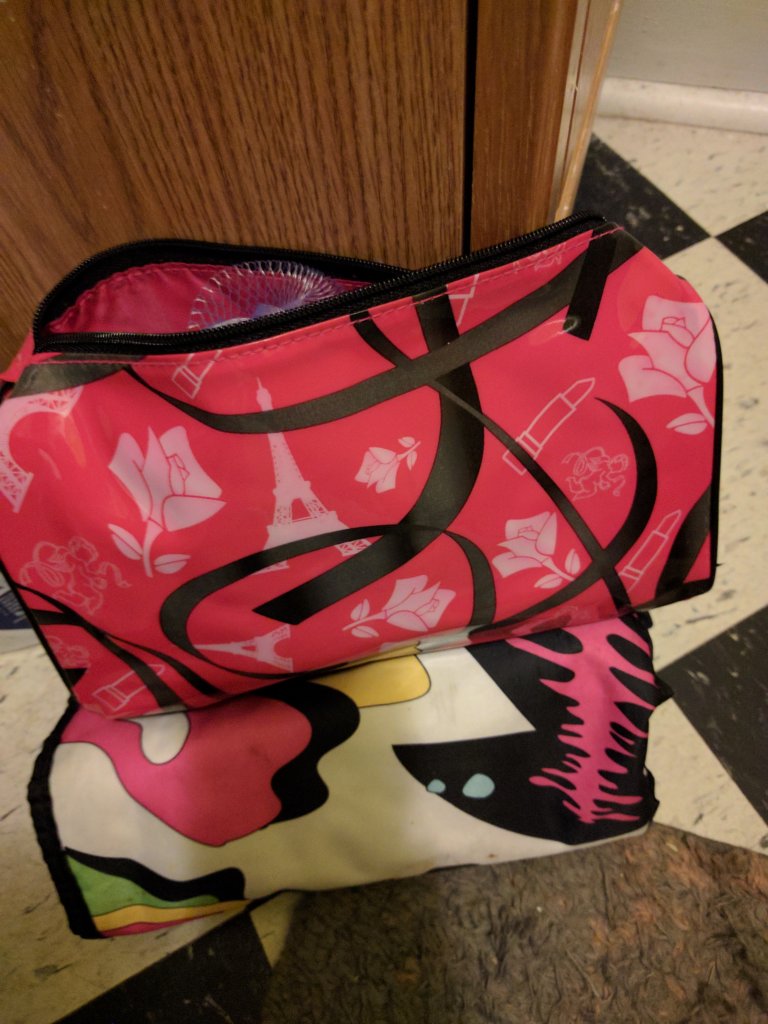 As far as packing your suitcase goes, I always recommend using a suitcase that has wheels. That way you only have to lift it when you're putting it into the car. Unless you live on a third-floor apartment like I used to. That was fun.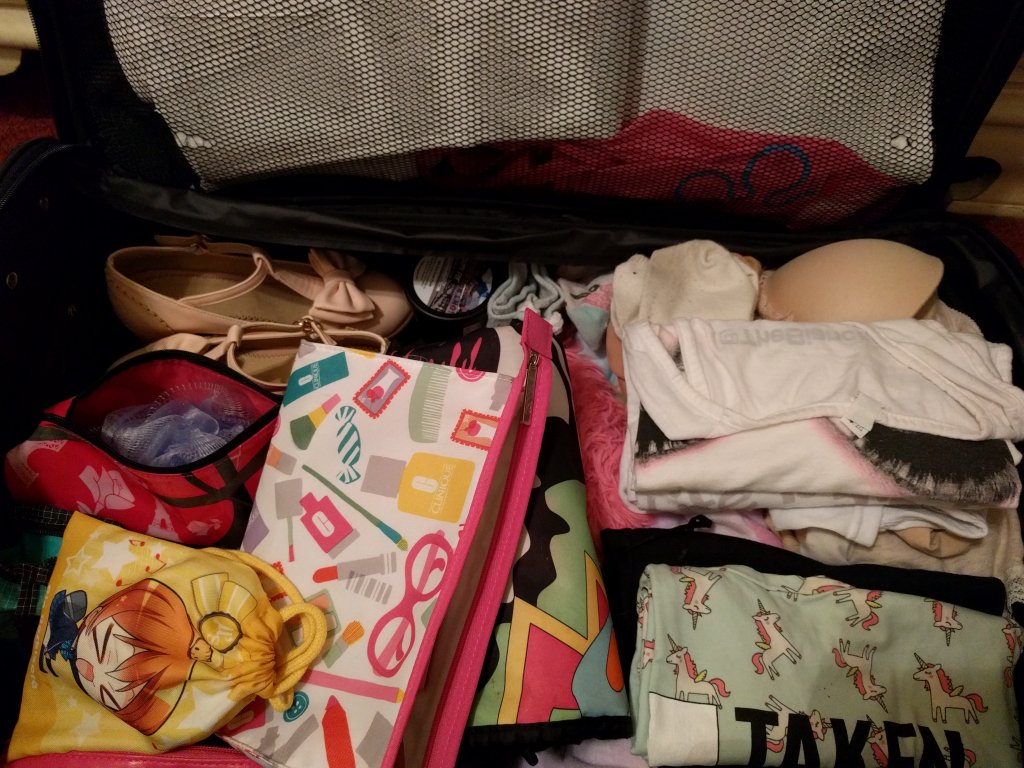 When I'm packing, usually my clothes take up about half of my suitcase. The other half I save for makeup, toiletries, shoes, and other stuff. If I have enough room when I'm done, I'll throw my snacks in there too. Usually I'll pack a little neater than this, but I threw everything in just to take the photo for now. I'll take a photo of my actually packed suitcase to replace this one later this week.
Need help packing?
Or do you have some additional packing tips that I haven't addressed yet? Let me know! And remember to say hi if you see me at AnimeNEXT this weekend! I'll post my cosplay lineup later this week! Have fun and be safe!