Zenkaikon 2017: Convention Recap
So last weekend I was at Zenkaikon, and it was awesome! Zenkaikon is my semi-local convention in Lancaster, Pennsylvania. This was my third year there, and I find I'm enjoying it more every year. We usually commute to the convention each day since it's only a little more than an hour away from my corner of Philadelphia. This year my friend Flora offered to let us stay in her hotel room, which was awesome because it allowed us to save money and spend more time with friends!
We arrived in Lancaster shortly after 9 PM Thursday evening. There was no line for pre-registration, so we grabbed our badges and then went back to the room to chill. We went to bed early that night because we're all tired old people who need our beauty sleep.
Friday: Good morning, Zenkaikon!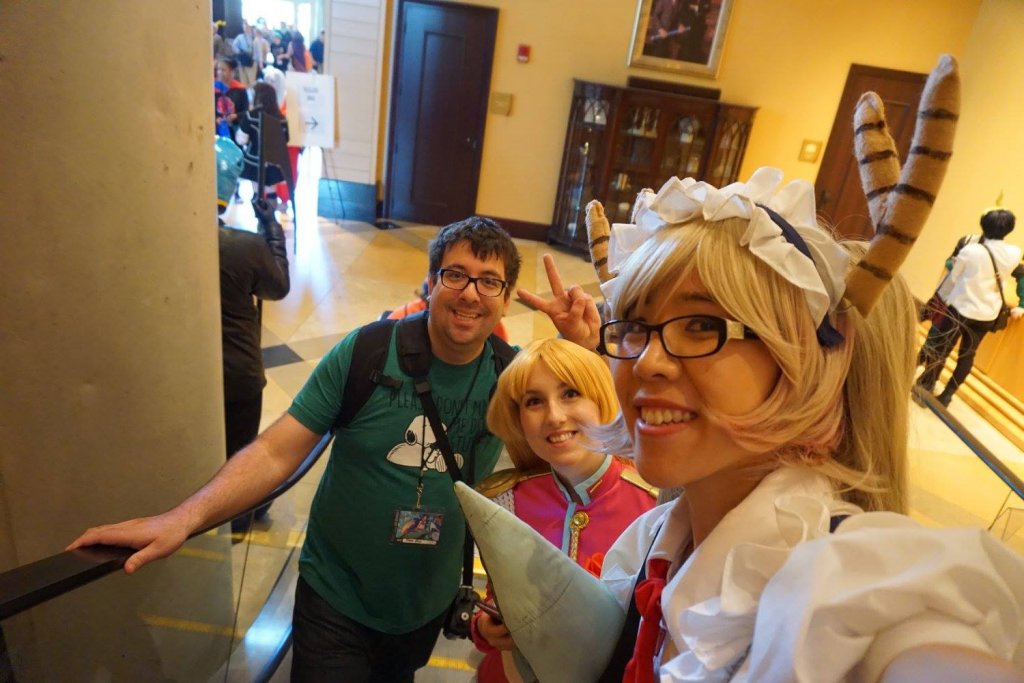 On Friday I cosplayed as an early manga version of Utena from Revolutionary Girl Utena and Flora cosplayed as Tohru from Miss Kobayashi's Dragon Maid.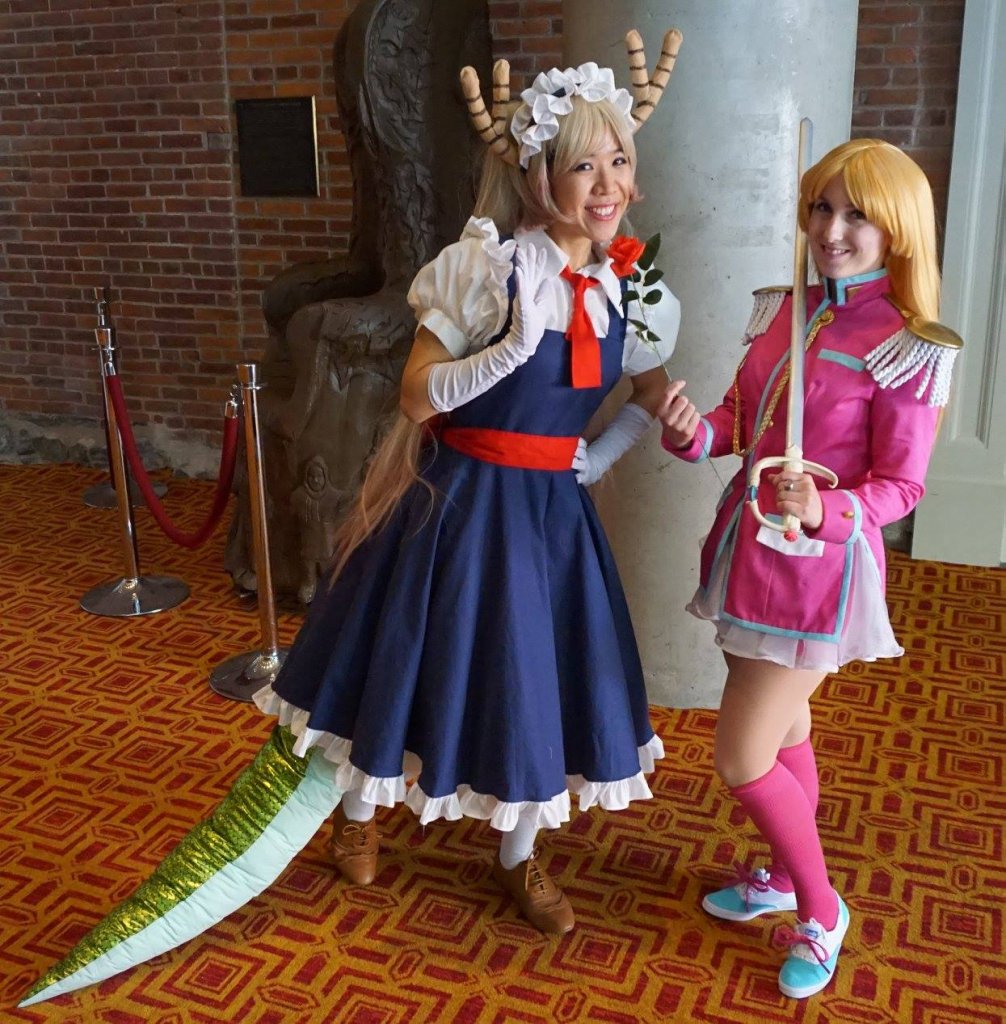 We spent the morning wandering around and people watching. Flora took most of these photos because she likes to take pictures of every awesome cosplayer at the con. It was very kind of her to give me permission to post them here. Thank you, Flora!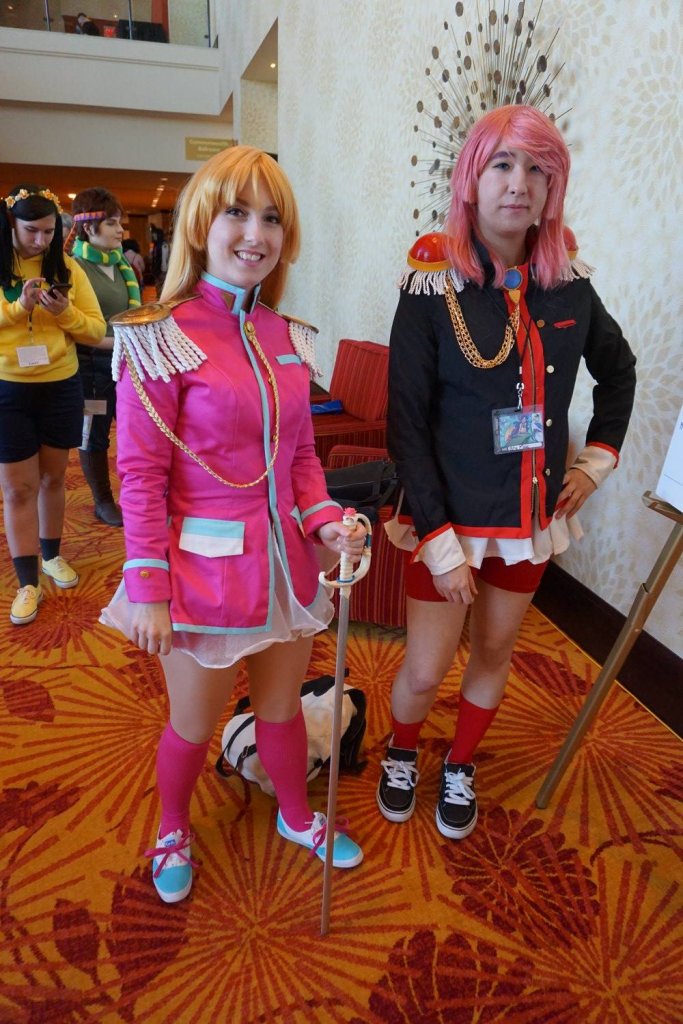 The thing I love about Zenkaikon is that I'm always running into friends. I'm really bad at making plans during cons, and at bigger ones like Katsucon and Otakon I almost never run into my friends. But at Zenkaikon I ran into almost all of the friends that I'd made there last year.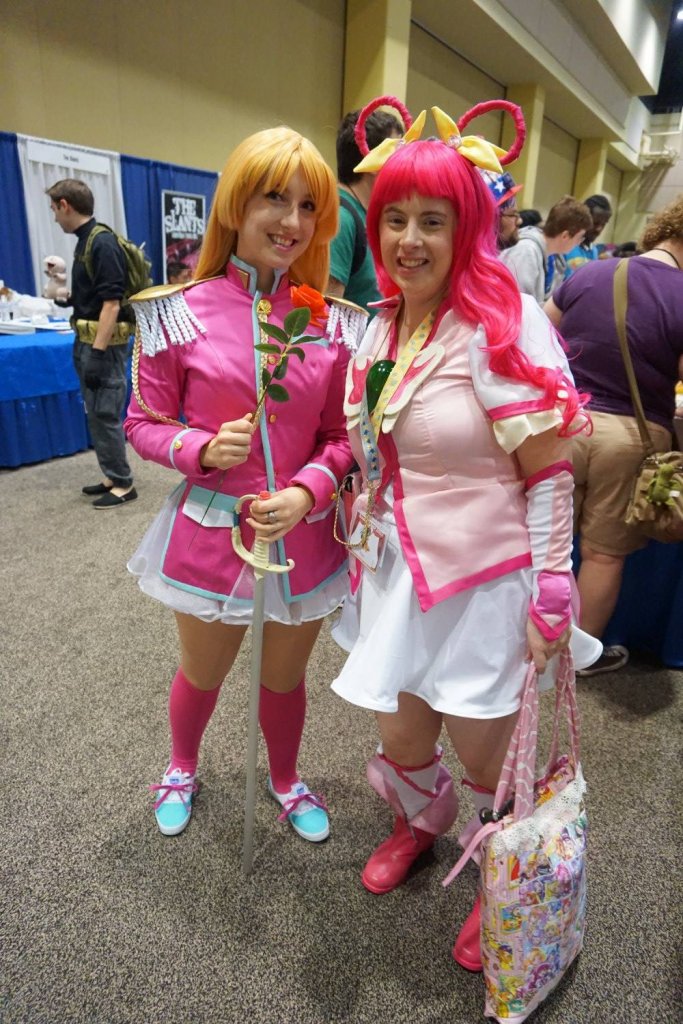 After we finished exploring, we went back to the room to prepare for hall cosplay judging. Flora and I had back-to-back judging appointments on both Friday and Saturday, so we were able to get ready and walk together.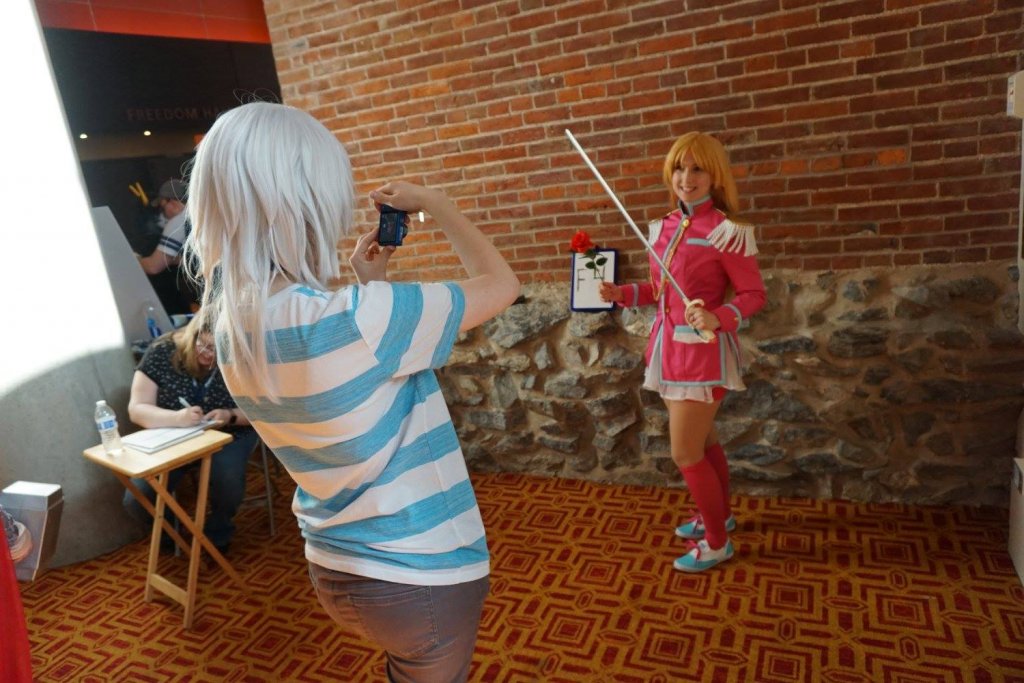 I entered Utena on Friday, and Flora entered Takao from Kantai Collection. Judging was stressful! The judges were nice, but they were so poker-faced. Flora and I weren't sure if they liked our costumes afterwards.
A funny thing happened during my judging:
One of the staff in the room snapped this picture of me while one of the judges was examining my jacket seams and telling me, "I'm just going to lift your butt flap." It was a memorable part of my weekend so I'm glad she captured it on camera, haha.
After judging we went to the exhibition hall. I bought a rainbow unicorn kigurumi and some stickers, and then we went down the street to get Chinese food!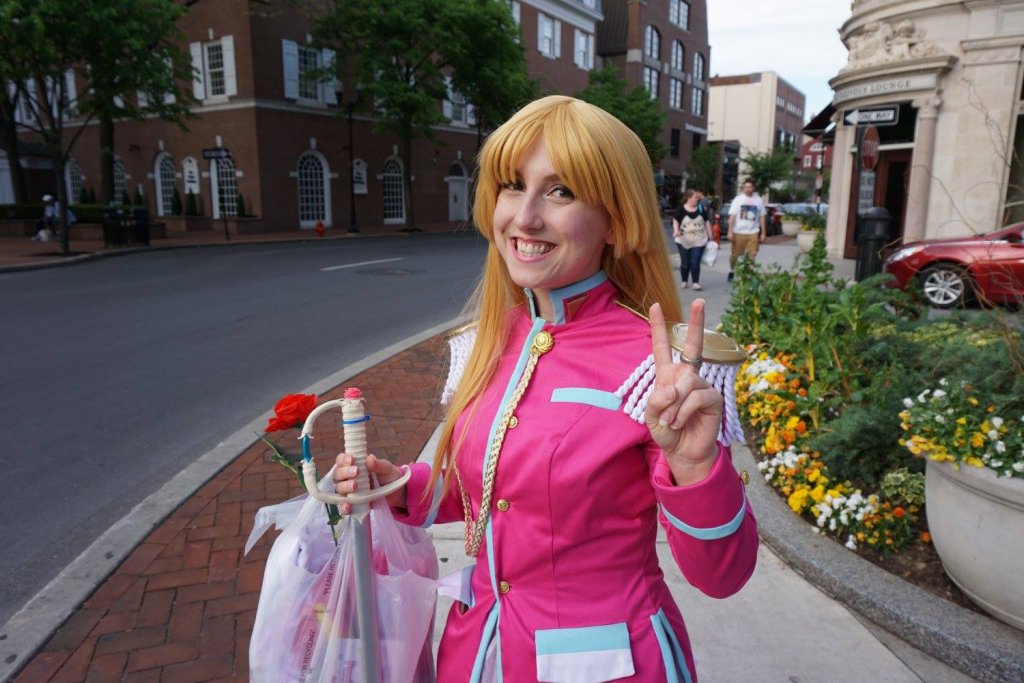 After dinner we started getting ready for the cosplay ball. Danny doesn't like to dance, but he agreed to go with me. Flora took an awkward prom photo of us: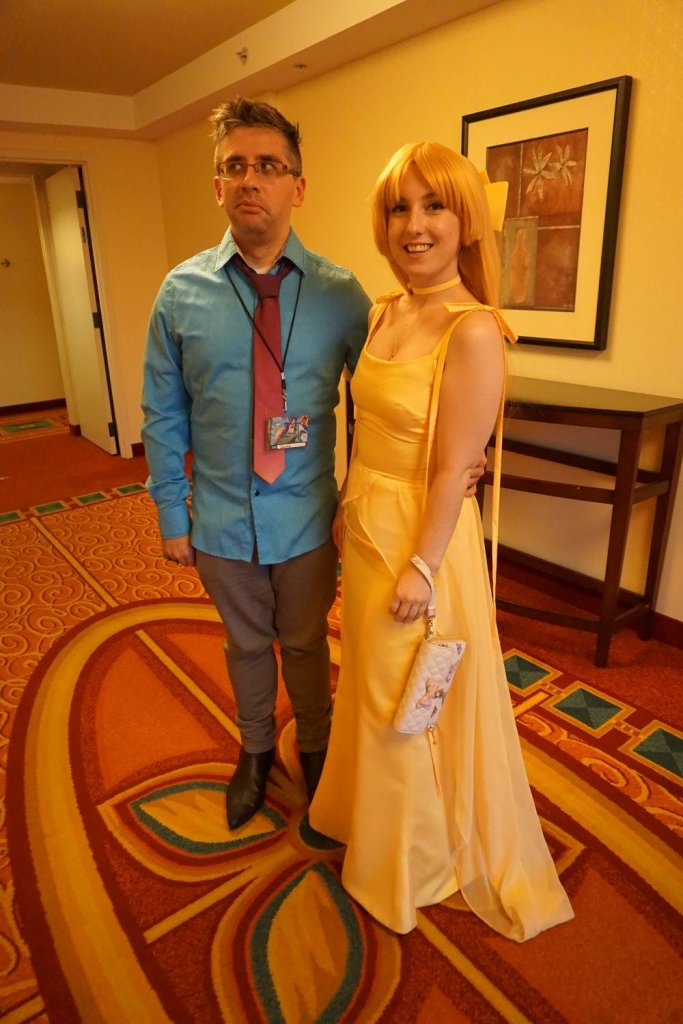 I had intended to wear my Utena costume to the ball, but I worried that I wouldn't be allowed in so I gave up and wore my Princess Venus costume instead (but with the Utena wig, haha). The ball was pretty fun but we decided to leave early because we were tired.
Saturday: the big day!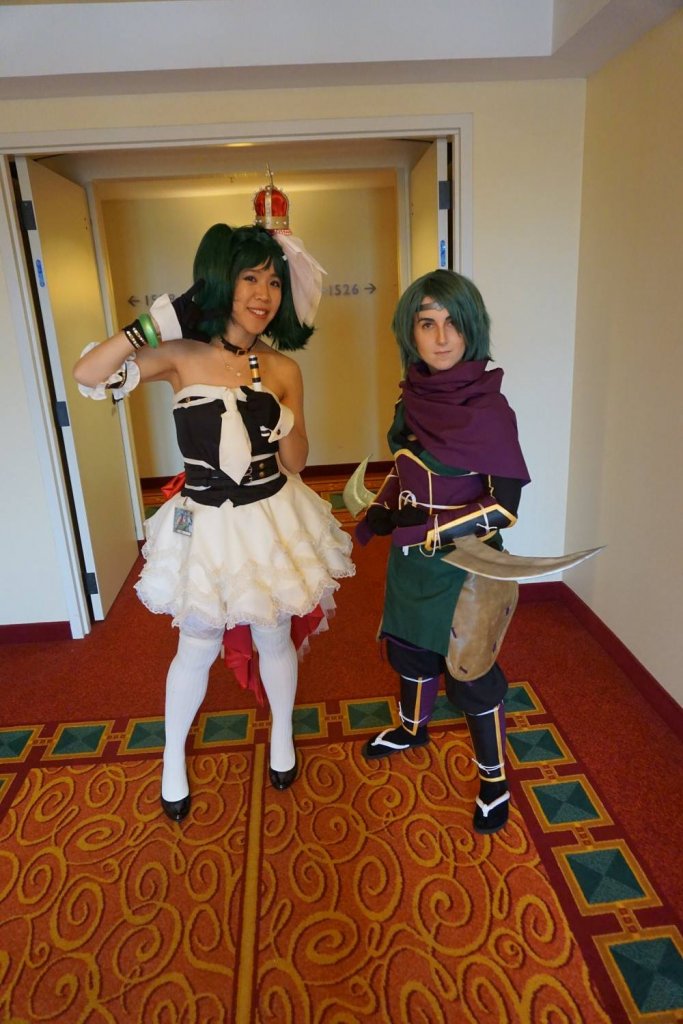 Fast forward to Saturday morning! We had appointment​s at 9:40 and 9:50, so we got up early and prepared for judging. This time around I entered Kaze from Fire Emblem Fates and Flora entered Ranka Lee from Macross Frontier. We ran into my friend Jennifer, who competes at the craftsman/master level.
While I was waiting for Flora, I talked to Jennifer about competing and she gave me some helpful advice on explaining a costume to judges: she starts with her head and works her way down, or she starts with her feet and works her way up. She also encouraged me to bring my A+++ game when I eventually go to compete at Otakon. I don't know if I'll be ready to do that this year, but we'll see!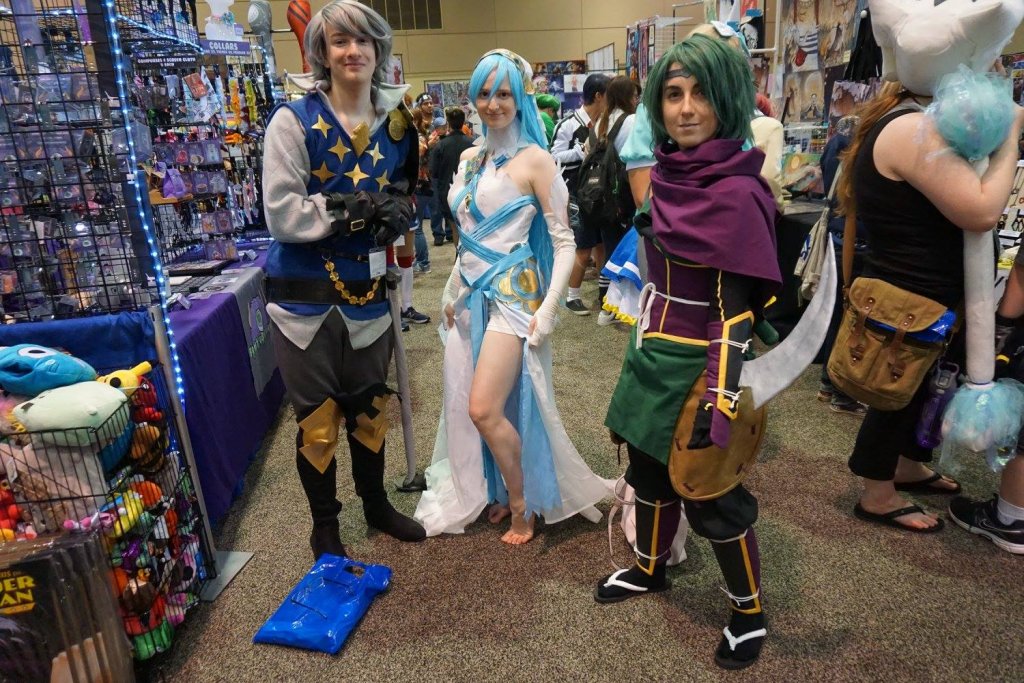 After judging, we returned to the exhibition hall, I attended a couple of cosplay makeup panels, and then it was time to get ready for the masquerade! Flora and I checked in and made a point to save a seat for our friend Alyssa (Spufflez). We all met at the masquerade last year, so it only seemed right to sit together. It was really great to see Alyssa again because we attend a lot of the same conventions but we never seem to run into each other.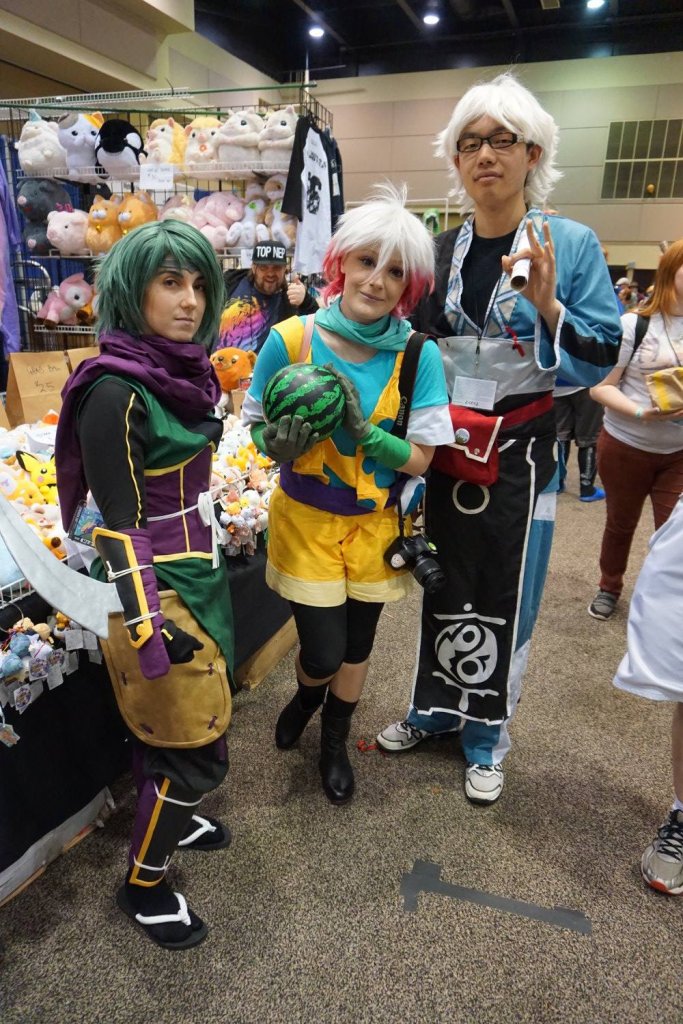 The masquerade was really fun, and there were a lot of great skits this year! So many that they had to rush a bit at the end. I didn't place in the hall cosplay contest this year, but Jennifer won best of the craftsman division and Flora won best of the novice division!!
Sunday: last-minute fun times!
Sunday I wore Utena again because I made plans to shoot some photos with my friend Marisa (Kasei Cosplay), and we checked out of the hotel through the TV! The future is now!
I attended a couple of panels, and then I said goodbye to Flora and Steve. Danny and I made it home in time to unpack and have dinner. I tried to catch up on RuPaul's Drag Race, but instead I ended up sleeping through the same episode three times.
Post-con thoughts!
Zenkaikon is quickly becoming my new favorite convention. It's smaller than other conventions I attend, and that's not a bad thing. It's not super crowded (but there's no shortage of awesome people and costumes!), and it's easier to navigate than either the Gaylord or the Baltimore Convention Center. The staff are always friendly and helpful, and for the most part the lines weren't bad. The exhibition hall had a great selection of merchandise, artwork, and other goods. I didn't go to as many panels as I usually attend, but the ones I did see were pretty good. And I always enjoy seeing my friends at conventions and meeting new people. It was a great weekend and I can't wait to go back next year!
Next convention this year: AnimeNEXT! 💞